Garage Organization Tips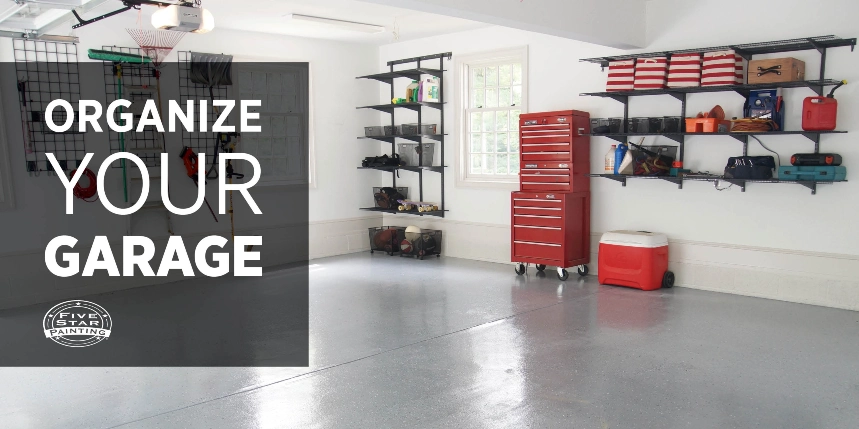 For many homeowners, besides being a place to park their vehicles, their garages also served as an extension of the home, and have a variety of secondary functions, such as a workshop, additional storage space or a personal man cave. According to a survey conducted by one garage organization company, approximately 25% of the respondents stated that their garages were so unorganized that they could not park a single vehicle inside. Another 30% of the homeowners said that they did not open their garage doors because they were embarrassed by the messy appearance.
Regardless of how you choose to use your garage space, if your garage is too cluttered to park your vehicle, the following garage organization tips can help your organize garage project and maximize the space in in a matter of days.
Categorize Your Items
Start by separating items into three piles — "keep," "sell" or "donate." Resist the temptation to keep anything that you have not used in 2 years, including broken and unused toys, leftover paints and chemicals, old appliances and other objects. That being said, if your appliances merely need a tune up to get back in your working line-up, contact our fellow Neighborly® brand, Mr. Appliance®.For the items you intend to keep, divide them into broad categories such as tools or sports equipment. Household chemicals and other potentially hazardous items may require special disposal in accordance with local ordinances.
Apply a Fresh Coat of Paint
While your garage is cleared out, take the time to have the interior walls of your garage repainted. Walls that have been hidden behind clutter typically accumulate a lot of dust, dirt, spiderwebs and scuffs. After wiping down the walls, apply a fresh coat of paint in a light shade with a semi-gloss to gloss finish. While a gloss finish will show more texture imperfections than a flat finish, it will be easier to prevent scuffs and dirt build up in the future.
If your garage floor has oil stains and tire marks that will not disappear after doing a pressure wash and mop, consider an epoxy finish. Many Five Star Painting locations offer garage floor coating options; learn more here.
Choose the Right Storage System
One of the keys to a successful organize garage project is to keep items off the floor as much as possible. To help you keep the garage organized, divide the space into zones where you will keep tools, power tools, etc. Shelves provide an inexpensive option for storage and easy access. Unlike cabinets with doors, shelves do not require clearance space. If possible, you should try to avoid this option because cabinet with doors makes it tempting to hide any evidence of messy shelves and disorganization.
However, cabinets with doors may be your best solution if your objective is to store dangerous chemicals or objects out of the reach of children and pets or to protect items from dust and dirt. Other solutions for your organize garage mission include:
Pegboard Storage Systems – Use pegboards to organize light weight items like hand tools and gardening accessories. You can cut the pegboard to size and paint for a more customized appearance.
Track-Based System – This system can handle the weight of heavier items. The system consists of shelf standards that hang from a single track secured to wall studs. You can adjust standards, shelves, hooks and organizers quickly.
Panelized Systems – This vertical organizing system, which consist of slotted plastic panels that support cabinets, shelves and lock-in-hooks, enables you to use all the available space on your walls. You can choose from the DIY organizing systems or systems installed by professionals. May we recommend our fellow Neighborly® brand, Mr. Handyman®?
Use labeled storage bins and boxes to stow away tools, shoes, sport equipment and other miscellaneous objects.
Effective use of Overhead Space
Use the garage ceiling to hang stuff that you do not use on a daily basis. There are numerous garage overhead racks and systems that offer effective solutions for storing long flat items such as ladders, skis and other things. You can also store boxes and bins overhead. Make sure that you have enough clearance to avoid interfering with the movement of the garage door or scraping the roof of your vehicle.
Spring is the perfect time to initiate projects around the home. Five Star Painting specializes in residential and commercial painting. Whether you have a large or small job, you can count on our painting professionals to deliver the perfect paint job along with superior customer satisfaction. Click to schedule your free estimate directly through our site!