Painted Ceilings That Aren't White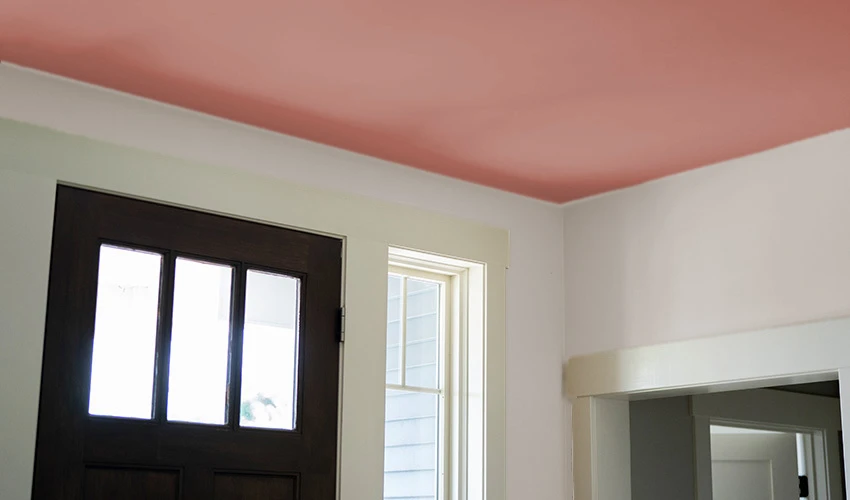 If you've been thinking about updating your home's interior, don't just paint your walls. Give your ceiling a splash of color, too. Although fifty shades of white have been the status quo for decades when it comes to ceilings, it may be time to chart a bold, new path of your own! Adding color to a ceiling dramatically transforms the room's atmosphere and gives it a contemporary look.
When exploring ceiling paint color trends, consider the room's purpose and the look you want to achieve. Are you hoping to make a small living room seem bigger? Or, to infuse the master bedroom with a cozy, intimate feel? Whether it's a library nook, a child's bedroom, or a tiny guest bathroom, you can find the ceiling color look to fit your needs.
Making Small Rooms Appear Larger
Generally, lighter colors give the illusion of added space. If you want to make a small room seem bigger, match wall and ceiling color, choosing lighter colors. The room will appear brighter and more spacious. If you prefer contrasting colors, lighter colors on the ceiling paired with darker walls is another option. This combination may make rooms with low ceilings feel more open and airy.
Adding Warmth and Coziness
To add a cozy, intimate feel to a small bedroom or library nook, choose darker colors. For a cohesive look, paint the ceiling and walls the same color using a darker hue, or reign in a too-high ceiling by painting it a few shades darker than the walls.
More Tips
For a dramatic look, try cobalt blue or another dark color with white walls to create stunning contrast. This may work especially well with rooms that get a lot of natural light throughout the day.
For asymmetrical or angled ceilings, paint them the same color as surrounding walls to create a balanced, blended look, or paint in contrasting colors to highlight their unique style. Use darker colors to make vaulted ceilings feel lower, or paint in light colors to enhance their spacious look.
It's also a good idea to tape off the walls because it's harder to "cut in" a ceiling when the walls stay as is. For those not familiar with the turn, "to cut in" means using a paint brush to create straight lines along the edges of painted areas, such as corners, along baseboards, trim and, in this case, along the ceiling line. Using painter's tape is a good idea while painting a ceiling, unless you have lots of experience with freehand cutting in.
Ceiling Paint Color Trends
The latest ceiling colors on the radar are shades of sky blue, mint green, and soft yellow. Rich browns and cool grays are good choices if you prefer neutral colors.
Wondering what color to paint your ceiling? Check out a few of these options from Sherwin-Williams:
Light Colors
Medium Colors
Dark Colors

Now that you're more familiar with ceiling paint color trends and you've got some ideas about what color to paint your ceiling, it's time to step outside that whitewashed box! (Don't worry—you can always go back to white ceilings if you change your mind.) Check out another of our brand's blogs on painted ceiling techniques.
Let an Expert Help You Choose the Right Color
Picking the right paint color, especially when you're making a bold change, can be intimidating, and painting ceilings is a tedious job. Why do all the work yourself when Five Star Painting is happy to do it for you? Kick back, put your feet up, and relax: Our professional painters will take care of everything—free color consultation services included! Call 888-261-3633 or visit online to aschedule a free estimte today.
Once things are looking up for the "fifth wall's appearance, be sure to look down. Floors seem a bit lackluster? Let our fellow Neighborly brand, Rainbow Restoration, help you clean them.