Evaluating Exterior House Painting Professionals - What You Need to Know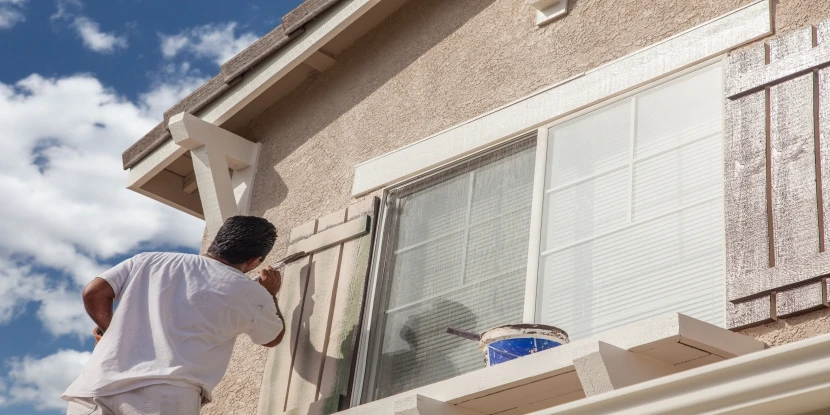 Okay, so you're finally ready to paint your house, but you're not sure where to begin when it comes to choosing a painter. Do you choose a small local company, or a bigger company? Should you decide based on price, experience, reputation, or factor all of this into your final decision? Deciding who is going to paint your house can be a tough decision. You want to choose a pro that makes you feel confident the job will be done right—someone you would recommend to family and friends. It's a big decision, so we're going to give you some information that will help you make a good decision.
High, Low or Somewhere in Between?
When the time comes for a new exterior paint job, there are a variety of options available to you. A professional home painting service is the way to go, but finding the right company to do the job presents a few challenges. Quotes to paint your house usually cover a wide range, high, low and somewhere in between. It's often tempting to go with the lowest bidder, but what does this mean in terms of quality of work and how your home will look after the job is done?
Knowing what a high-quality painter will focus on and how the job should be done can help you understand why some bids are higher than others. If you understand how the best painting professionals' prep and complete a job, you can sift through the variety of bidders and find the best possible painter for your needs.
A Long-Term Approach
One thing a high-quality painter will try to do is to earn your trust, and your repeat business. The best professionals are always thinking about building and maintaining a solid base of repeat customers. They are not just interested in moving from job to job. They want to foster a relationship with every client. This can only be done if they build trust in the quality of their work.
Real professionals are concerned with the longevity of their work and how the finished product looks over time. They will use only high-quality paint that looks fresh and vibrant for a long time. A house that maintains its vibrant look is like free advertising for a painter. You're much more likely to recommend a painter that did a great job on your house to other family and friends. It may even inspire some of your neighbors to get their house painted too. Nobody will hire back a painter that did sub-par work or used inferior paint. And that's why painters who use an inferior product typically bounce from job to job.
A high-quality painter will also make sure that your home is properly prepared before they even begin the job. Scraping away any loose paint, priming and repairing any flaws in the surface are essential steps in the process. A professional might recommend that any damaged or rotten exterior fascia be replaced before painting begins to avoid future problems. A superior painter will do a thorough check of your house exterior to make sure it's ready to go before any paint is even taken off the truck. Cheaper and less experienced painters will typically cut corners and try to get going as soon as possible—which usually leads to inferior workmanship—so they can move on to their next job.
Protecting the Surroundings
Aside from the priming of the exterior surface itself, additional care and preparation must also be taken place to prep the areas surrounding your home. A professional painter will take special care to protect exterior light fixtures, windows, trim, outdoor furniture, vehicles, plants and foliage from any overspray paint. Although this type of preparation takes time and additional work, it's a necessary step to ensure the job is done without creating additional problems.
Taking shortcuts with this type of preparation can cause some major headaches for a homeowner. Overspray paint can get on cars, outdoor furniture, and potentially kill or damage landscaping. A less professional or experienced painter with a lower bid may not take the right steps to fully prepare your home before they begin painting.
Go with a Pro
There is no doubt that choosing a painter to paint the exterior of your home is a big decision. So don't hesitate to ask questions. How much prep work is needed and how long will it take? What type of paint will be used? How will the surrounding areas be protected? Will a primer coat be applied? How long will it take to complete the job? Your painter should be able to answer all of these questions, and you should feel satisfied with their answers. After all, it's your house, you have to live in it every day, so make sure you feel comfortable with the painter you choose.
Call your local painting professionals at Five Star Painting. They can answer any of your questions and do a thorough and complete inspection of your house exterior before they begin any job. They also remove all dirt, debris, and repair or replace any damaged wood prior to painting. And all surfaces are pressure or hand washed prior to painting because real pros understand how important it is for the exterior of your home to look its absolute best.