How to Decide What Color to Paint a Sunroom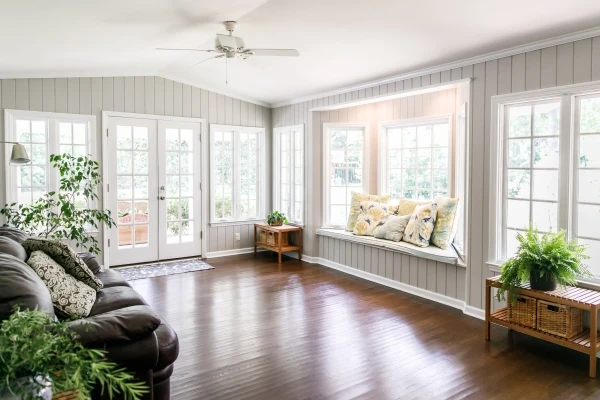 If you're lucky enough to have a sunroom in your home, you'll want to match that bright energy of the sun to the color design inside. But there's not a lot of wall real estate in sunrooms, so it's essential to choose paint colors carefully, keeping the windows, natural lighting, and your goal for the sunroom top of mind.
Follow these tips to help you transform your sunroom into the haven you dreamed it could be.
Related Topic: Factors to Consider When Choosing Exterior Paint Colors
Sunroom Paint Colors
Before selecting paint colors for your sunroom, decide what effect and ambiance you hope to achieve. Picturing yourself in your ideal sunroom can help capture the vision for this space. For example, do you want a sunroom that is light, airy, and bright? Warm, cozy, and calming? Or maybe even unique, non-traditional, and a little funky? Keep your goal in mind while exploring paint color schemes.
Based on the look and feel you desire, we recommend the following colors:
Bold and Funky Sunroom: Craving a little more color? It's perfectly fine to think outside the box with your paint palette. A bright yellow sunroom will ensure the space is the most cheerful room in your home. Go with the bold Forsythia | SW6907 on walls with Pure White | SW7005 trim. Style the space with a few funky pieces of furniture and plants to create an eclectic ambiance.

Related Topic: How to Make Your Home the Ideal Gathering Place
Sunroom Paint Ideas: Our Top Tips
Now that we've covered sunroom paint colors to inspire your project, here are some helpful tips to guide you in the paint selection and painting process:
Sunlight can reveal a paint color's undertones. For this reason, it's a good idea to test out paint swatches in your sunroom at different times of the day.
Choose interior/exterior paint because it offers UV protection to help your paint resist fading; interior household paint is unlikely to give you optimal results in a sunny space.
Purchase enough paint to apply multiple coats (at least two) in the sunroom. The paint will look richer, and more than one coat will also provide additional protection against UV rays, moisture, and the temperature fluctuations common in sunrooms.
Don't be afraid to paint an accent wall to add contrast and visual interest to the sunroom. Painting the entire room with one bold color may make it seem too small, whereas painting an accent wall allows you to incorporate a pop of color without making the room seem too heavy.
Professional Painters to Transform Your Sunroom
Your sunroom can be a magical part of your home—the place where you go to relax, unwind, and even gather with friends. When you're ready to transform your room and make your vision a reality, contact your local painting pros at Five Star Painting. We offer exceptional interior painting services that can help transform any room in your house into something new. Give us a call at (888) 261-3633 or request an estimate online to get started.