Antique Painting Techniques and Colors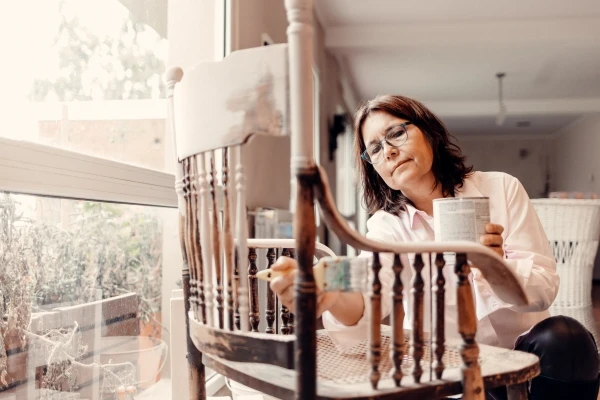 When it comes to freshening up the interior of your home, sometimes vintage style can make it look brand new. An enormously popular interior design trend that started decades ago and doesn't seem to be losing any momentum is the antique look.
While there certainly are antique paint colors you can choose, like cream, eggshell, and weathered gray, you could even take it a step further. Using certain techniques and methods and easily found materials, you could give both your walls and your furniture a customized look. Antique painting techniques are not as difficult as you may think. With a little research and preparation, you could take your home from outdated to vintage in no time.
Antique Paint Colors
When considering antique paint colors for either walls or furniture, think "muted." Muted colors are defined as hues that are not saturated or bright but instead have a gray or dull undertone. You could find a muted version of almost any color palette, but the most used antique paint colors are gray, cream, eggshell, and teal green. These colors from our partners at Sherwin Williams are a perfect choice:
Muted colors are extremely versatile, and since they all have the same undertone, it's easy to mix and match pieces in every room. You could easily pair a muted gray with a muted mauve, or a muted teal with a muted orange. The possibilities are endless!
Antique Paint Finishes
There are certainly antique finish paints available. However, to get the perfect customized vintage look, the sanding, painting, and staining method below produces the most authentic look. If you're looking to bring the vintage look to an entire room, sometimes the best method is picking a neutral color like beige, gray, or off-white, and let your antique-finished furniture be the focus.
How to Antique Furniture with Paint and Stain
While you could always hire professional painters to spruce up your home, antiquing your furniture is a fun DIY project. Even first-timers can end up with beautiful custom pieces! The best canvas for antiquing furniture is an old or unfinished wood piece, like a table, desk, or dresser. First, you will need to gather up your materials. You will need:
Latex or acrylic paint in the color of your choice
Water-based primer
Oil-based stain to use as a glaze
Polyurethane
Sanding block and sandpaper
Paintbrushes
Cloth rag for stain
Steel wool
Once you've gathered your supplies, follow these steps:
Remove drawers or shelves. Use a screwdriver to remove any handles, fasteners, or hardware.
Sand furniture completely, leaving a smooth surface for primer.
Apply a thin coat of primer to the entire piece. Allow it to dry completely.
Using long strokes, apply a coat of paint in the color of your choice. By using a wide brush, you can create more texture with your application, which will add to the antique look. Allow it to dry completely.
Once paint has dried, use your sandpaper to lightly sand edges and areas of the piece that you'd like to appear weathered. You can also use steel wool to create that "rubbed through" finish.
Now you will use your stain over the paint for an antique look. Using a clean paintbrush, apply stain to an area of the piece. Then, using your cloth, wipe most of the stain off, only leaving it in recessed areas. This will give it an intentional, aged appearance.
Once the stain has dried completely, apply a coat of polyurethane to seal the entire piece and protect the finish.
Reinstall any doors or hardware. Consider replacing the hardware to complete the antique look.
Professional Antique Painting Services
Changing the interior design of your home can be both exciting and a little scary. However, with the right advice, supplies and material you can bring your vision to life. If you're ready to get started with your new look but need help with the painting. Let the professionals at Five Star Painting take care of all the dirty work for you. Our experienced team of pros will handle everything from setup to clean up, leaving your home with a brand new—or old—look! Give us a call at (888) 261-3633 or request a free estimate online.