A cost-effective way to make your home look new again is a fresh paint job. Whether it be the same color or an entirely new color. a professional layer of paint can refresh any room of your house. At Five Star Painting of Cedar Rapids, our services include a color consultation if you're unsure of the color you want.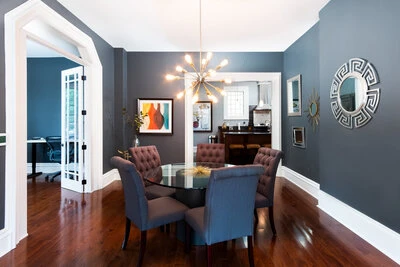 Increasing Your Home's Curb Appeal
Are you thinking of selling your home? Interior painting is a great investment towards making your home ready to sell! Many buyers seek a home that is a "move-in ready" appearance. Outdated paint colors, wild colors and dirty interior walls communicate to buyers that there is a lot of work to be done. Why not have the interior walls painted in colors that are attractive, neutral and appeal to a wide range of buyers? New interior paint can make selling a home smoother and easier for you!
Looking to increase your home's curb appeal? Contact us and give us a call today for a free estimate!
What Rooms are You Looking to Paint?
Most people often think of repainting their bedrooms or main areas of their home, such as the living room. While these are nice rooms to get redone, there are plenty of other spaces in your home. These that can dramatically improve with new paint. Our painters of Cedar Rapids work with areas including:
Bathroom
Family Room
Laundry Room
Hallways
Stairways
Dining Room
Entry
Basement
When you want the interior rooms of your home painted, give us a call today. We can schedule a free estimate.
Customer Satisfaction Is Our Number One Concern
From start to finish, we at Five Star Painting of Cedar Rapids want you to be happy with our services. We will attempt to address any questions or concerns you have throughout the process. We will also strive to complete each project on time. We work with painters who will try to complete jobs quickly and efficiently. We'll work hard to give you the dream look you've been craving.
Five Star Painters Don't Leave a Mess
A nerve-wracking part of painting is protecting your trim and flooring while painting. This is often why homeowners choose a painting service opposed to painting themselves. We work with contractors who are careful to do correct prep work before starting. This includes covering any surface that may get paint spatters on it. When they are done, our Cedar Rapids team strives to clean everything up. Our goal is to leave you with a stunning transformation.
If you're ready to get started on refreshing your home, give our Cedar Rapids Interior Painters a call today.
Interior Painting Frequently Asked Painting Questions
Should I wash and clean my walls before I paint my home?
Washing and cleaning your walls will ensure your paint job is high-quality. Not cleaning your walls will result in a low-quality paint job. It's smarter and more efficient to wash your walls prior to your paint job. If paint is applied over dirty walls, the paint won't stick correctly to the surface. This can cause the paint to peel much sooner than it should.
Let us help with your interior painting project.