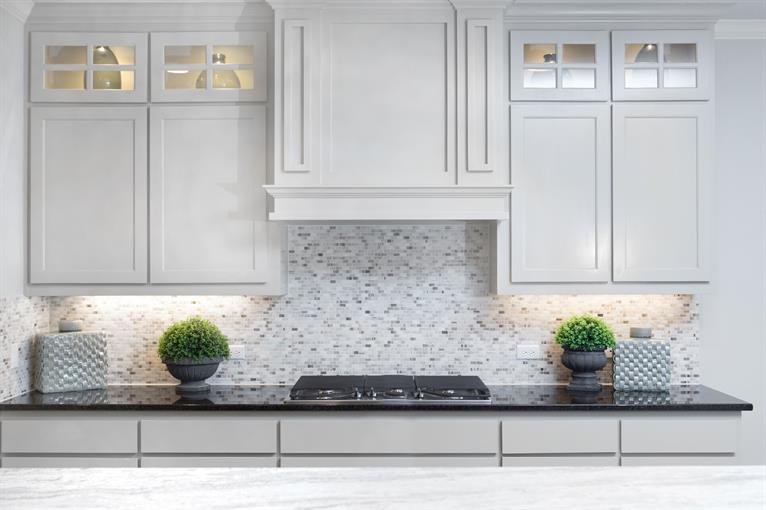 Cabinets that look worn and aged usually don't need to be replaced. All that they typically need is a good refinishing. You can save money by opting to refinish your cabinets instead of replacing them.
We know experienced cabinet painters in Manassas who can refinish your cabinets to brighten up the space again. Many people are amazed at the impact refinished cabinets have on how new the room looks.
What Types of Cabinets Can We Refinish?
At Five Star Painting of Manassas, we refinish several types of cabinets, including but not limited to:
Kitchen
Closet
Garage
Bathroom
Check out our special offers to see how you can save money on your next cabinet painting service.



Do you have another type of cabinet in need of refinishing or painting? We can help. Book your free estimate online today.
Our Cabinet Painting Process & What You Can Expect
Our professional cabinet painters ensure your newly painted cabinets last and amaze for years. We do this by following a meticulous process. As homeowners like you, we understand that updating the look of your cabinets can transform the entire look of your kitchen or bathroom. That's why we have developed a comprehensive cabinet painting process that ensures a flawless finish.
Below you'll find details about our cabinet painting process and what you can expect:
The Free Estimate. The first step in our process is your free estimate appointment. This allows us to understand the scope of the project, identify any potential challenges, and provide an accurate estimate. We take the time to listen to your needs and preferences, and we provide a detailed estimate that includes all the necessary materials and labor. This first step is thorough, which helps us avoid any surprises or mix-ups during the project.
Choosing the Paint Color & Finish. Next, we will help you choose the perfect color and finish for your cabinets. We can provide you with expert color advice based on your preferences and the existing decor of your home. We know that selecting the right color can be overwhelming, but we're here to help you every step of the way.
Prep Work. Once you've scheduled the project, we'll thoroughly clean and prep the cabinets. We remove all hardware and doors, sand down the surfaces, and fill in any cracks or holes. This ensures that the new paint will adhere properly and create a smooth finish.
We'll Paint. Once the prep work and color selection is complete, we apply the paint using industry-leading techniques and materials. We take great care to ensure that the paint is applied evenly and that there are no drips or imperfections. We also make sure that the paint dries thoroughly before re-installing the hardware and doors.
A Final Walk-Through. Once we're finished, we'll walk through the finished work with you. This last step is crucial to ensure you're completely satisfied with our work. In the event any touch-ups are needed, we'll take care of them for you.
At Five Star Painting of Manassas, we pride ourselves on our commitment to delivering our cabinet painting services on time and within budget. We understand that you have a busy schedule, and we will work with you to find a convenient time for the project.