One of the easiest and fastest ways to make your house appear completely different is to change the colors of its interior paint. If your home has begun to look a bit too lived in, a paint job can also cover up scratches, stains and discolorations on your walls.
It can rid a space of outdated colors or make a room complement your furniture and décor. Five Star Painting of Holland can help you create a bold and colorful statement or a neutral color palette that makes your décor the focus. We can cover your walls in an assortment of your favorite shades.
Searching for trusted interior painters in Holland? Call us or reach out online for a free estimate. We stay on schedule and on budget.


Five Star Painting of Holland Updates All Kinds of Areas
The talented painters we work with our capable of painting a wide variety of spaces in various configurations, sizes and shapes. Selecting Five Star Painting of Holland to repaint your home in the Holland area will give you the chance to renovate a single room, an entire floor or your whole house. We routinely tackle:
Kitchens
Bedrooms
Bathrooms
Living Rooms
Family rooms
Home offices
Basements
Garages
Attics
Hallways
Foyers
Pantries
Closets
Built-in Shelving
To find out more about what we offer to homeowners who want to switch up their interiors, feel free to contact us .
Discover All the Advantages of Our Painting Process
When you decide to start working with Five Star Painting of Holland, the process will begin with a personal consultation. After we learn a little more about you, your tastes and your needs, we will match you with the paint crew that is right for the job. The contractors assigned to your project will start by removing any dirt, texturing or wallpaper.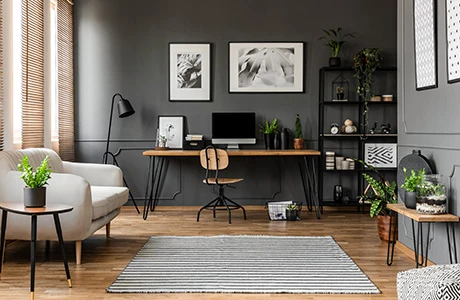 They'll then make any necessary repairs and apply primer to create a smooth surface. Once your interior walls are ready to receive the paint, the painters will apply your selected color in even coats. The result will be a polished and professional paint job that makes your home look fresh and stylish.
Contact us today to discuss your next interior painting project.
Interior Painting Frequently Asked Painting Questions
Should I wash and clean my walls before I paint my home?
Washing and cleaning your walls will ensure your paint job is high-quality. Not cleaning your walls will result in a low-quality paint job. It's smarter & more efficient to wash your walls prior to your paint job. If paint is applied over dirty walls, the paint won't stick correctly to the surface. This can cause the paint to peel much sooner than it should.
Can house painting help increase my home's value?
Yes, having your exterior, interior, and even your cabinets professionally painted can help boost your home's value and curb appeal. Professional house painting can be especially beneficial if you're planning to sell your home.
New and amazing color schemes can help your home stand out and help make a great first impression on your potential buyers. Plus, it's one less thing your potential buyers will need to worry about!