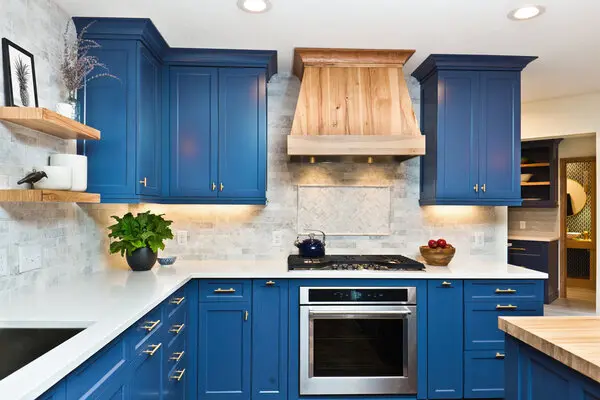 Instead of this, consider refinishing or repainting your cabinets instead. It will make a big difference in how your entire kitchen looks and feels for a fraction of the time and cost.
Refinishing old cabinetry is a great option for any remodel. It can help save a lot of money while at the same time provides an appealing new appearance.
Looking to get started with cabinet painting in Lafayette? Contact us today to schedule an appointment!
Professional Kitchen Cabinet Painters You Can Trust
Are your kitchen cabinets starting to look a bit outdated? If so, you might think that replacing your cabinets entirely is the only solution. Did you know that you can save a considerable amount of money and time by having your cabinets repainted?
Our team at Five Star Painting of Lafayette only works with first-rate contractors. We ensure that they are experienced and equipped with the right tools for the job. Our team of painters strive to show up on time and are committed to providing a result you'll love.
More Than Just Kitchen Cabinets Near You
Although most people think of kitchens when they think of cabinets, the truth of the matter is that cabinets can be used throughout a home. Five Star Painting can send out one of the painters we work with to paint cabinets in the following areas:
Bathrooms
Closets
Garages
Laundry rooms
Basements
Be sure to contact us to see if our contractors can work on your cabinet project.
Give us a ring today to schedule an appointment in the Lafayette region and get more details.
Not as Easy as it Looks
If you're considering taking a stab at painting your cabinets yourself, you may want to think again. Cabinet painting and refinishing is a skill and art that takes experience and practice to do just right.
Details in the setup, disassembling, and reassembling can be tricky. An amateur job is more likely to show in this area than in other home improvement projects. Be sure you stick with the professionals to get a result you'll be pleased with.
A Cost-Effective, Time-Effective Decision
Although repainting or refinishing cabinets is not a super easy job, it certainly is much simpler, less expensive, and less time-consuming than replacing your kitchen cabinets or renovating your entire kitchen.
Invest a comparatively small amount of money and time and see what a big difference it will make in your kitchen, bathroom, or other home areas with cabinets.
Interested in a free estimate? Call us today for a quality cabinet painting job at your convenience!
Frequently Asked Cabinet Painting Questions
How can I make my paint last as long as possible?
Take time to wipe away any spots that accumulate before they get trapped in the paint. Taking extra precaution in the kitchen is a must. Cooking oil, once airborne, can land on the nearby walls and can lead to dead spots in your paint.
The secrets to paint lasting long is attributed to proper prep work and professional paint application! Want to learn more about how you can keep the paint in your home healthy? Contact today!