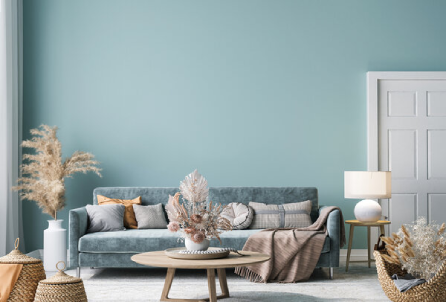 This means they'll provide excellent workmanship down to the smallest details in each and every room of your home. You'll be pleased with an interior paint job that's designed to last.
It takes skill and knowledge to achieve a professional look with painting. Our painting contractors are here to ensure a quality job that you'll love. Our team at Five Star Painting of Lafayette is committed to excellence and providing superior results.
Experience in Every Room
No matter if you're looking for a fresh coat of paint in one room or the entire house, Five Star Painting of Lafayette can help. The professionals we work with have experience painting the following types of rooms:
Living rooms
Kitchens
Dining rooms
Bedrooms
Home offices
Bathrooms
If you're looking for a facelift for your interior space, contact us to see if our painting contractors can take on your space.
Call Five Star Painting today for interior painting in Lafayette. We'd be happy to come out and give you a free estimate.
Professional Partners
From introductions to the last handshake, our team members and the painters we work with will be respectful of your time, budget, and home. We'll treat your home as our own, working to help you achieve your vision.
With open lines of communication, we'll keep the relationship a partnership to ensure that you're happy with our work throughout the process.
Clean and Tidy
The painters we contract with are trained in making sure your house stays as neat as possible throughout the painting process. At the end of each day, they will try to make sure things are straightened up. And at the end of the project, you'll only be left with a beautiful interior paint job and hopefully a smile on your face.
Your Happiness Is Our Success
At the end of the day, your satisfaction and happiness with our interior paint job will measure whether or not we've been successful. We know that if you're pleased, then you'll be a great referral source as well as a return customer. That's a win-win situation for both of us.
Contact our team today to find out more about our Lafayette interior painting services. We'd be happy to share details & give you a free estimate.
Frequently Asked Interior Painting Questions
Are there any rules for choosing the right paint?
Choosing a paint color for your house can be tough. The right color can improve the outer appearance of your house or brighten up a room inside your home, creating the change you are looking for.
Five Star Painting of Lafayette's color experts can help you find the best color for any room in your house. It's important to take hue, value, and intensity of each color into account. Looking to learn more about finding the right paint color? Contact Five Star Painting of Lafayette today!
Can house painting help increase my home's value?
Yes, having your exterior, interior, and even your cabinets professionally painted can help boost your home's value and curb appeal. Professional house painting can be especially beneficial if you're planning to sell your home.


Suggested Reading