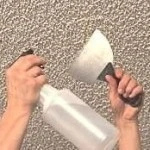 The ceiling is often neglected when it comes to updates of interior design. The truth is, no matter what your next project is, the "fifth wall" might be more important than you think. Perhaps paint is peeling, water damage is creating mold, or you're just plain sick of the old popcorn ceiling.
Similar to wallpaper removal, popcorn ceiling removal is a time intensive process. Depending on the size and type of ceiling you have, we recommend a few options:
Apply new plaster all over ceiling to get it smooth and make it appear brand new.

Buy 1/8" drywall and adhere over textured ceiling. Mud and tape, sand, prime and paint the new ceiling.

Remove the texture via a process of humidification and scraping.
At Five Star Painting Loudoun we are committed to helping you make the best decision. Request a free estimate below and we will walk through the process with you from finding the right option to handling the work of restoring or updating your ceiling.