Let's face it, the last thing you want to see when you get home after a long day is a drab, outdated paint job. At Five Star Painting of Montgomery County, we can create a unique color palette for your home's exterior.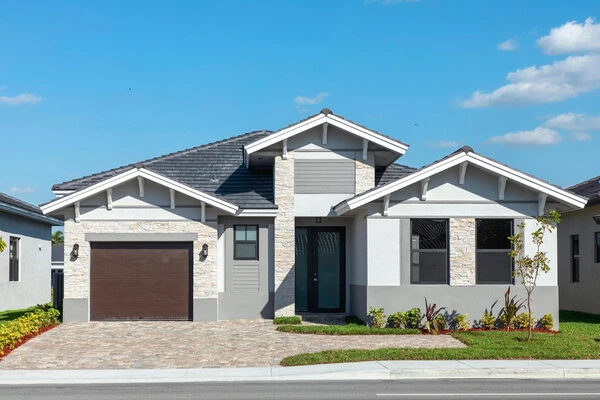 There's nothing to worry about if your home is weathered or worn either. Our team of exterior painters clean and prep before beginning a paint job.
Our exterior painting services will help increase and maximize your homes curb appeal. In addition to this, a fresh coat of paint will help you enjoy your home to the fullest!
Looking to get started on your exterior painting project? Call our Rockville team today to get started!
It's More Than You Think
Still curious about how we can improve your home exterior? Our exterior services cover:
Homes
Detached outbuildings
Garages
Barns
Trim
Shutters
Doors
Playhouses
Treehouses
Even if your home's exterior walls don't need painting, we can work to improve the aesthetics of your property by improving the accent features or outbuildings.
For example, we'll help you pick the perfect contrasting color for your detached garage or dramatically improve your shed with a new stain. Weathered shutters, doors, and decks can also be overhauled with a wide range of color options.
Call our exterior house painters near Rockville, MD today to get started! We offer free estimates.
Design Advice
Our Rockville exterior painters breathe new life into old, worn, or otherwise dull homes. Not only that, but our expert knowledge of outdoor paint products ensures that your paint job will last. We are committed to using eco-friendly products too. This means that your new and improved home comes guilt-free.
Color Is Your Friend
At Five Star Painting of Montgomery County, we enjoy helping clients explore a wide range of color palettes. Trending colors include beige and gray neutrals, high-contrast color pops, and toned-down primary pigments.
When choosing a color for your home exterior, it is important to consider the view of others. Nevertheless, colors can also be used to express individual style.
Call our Rockville exterior painters to book your free estimate!
Typical Exterior Painting Questions
Why should my exterior be repainted?
Exterior painting is more than just making your house look amazing. While that's certainly part of it, exterior painting also protects your home and exterior siding from rain and other harsh elements from the weather.
Consequently, keeping your exteriors routinely painted will help prolong the lifespan of your siding. To that end, your exterior should be repainted every 7 to 10 years.
How Long Has It Been Since It's Been Painted?
Typically, houses need to be repainted every 5 to 10 years. This ultimately depends on the climate, your exposure to the sun, your home's siding, and the quality of the existing paint job.
Want to learn more about exterior painting services in Rockville? Call us today to talk with our team!