Using interior design to create a space that reflects your personal tastes is not limited to merely choosing new furniture and home décor. If you want to transform your home entirely, consider applying a fresh coat of paint in your living room, kitchen or master bedroom.
When you are interested in redecorating the inside of your house, it's extremely important to incorporate your own preferred color palette, and whether you intend to update one room or your entire residence, paint is the most effective way to accomplish that.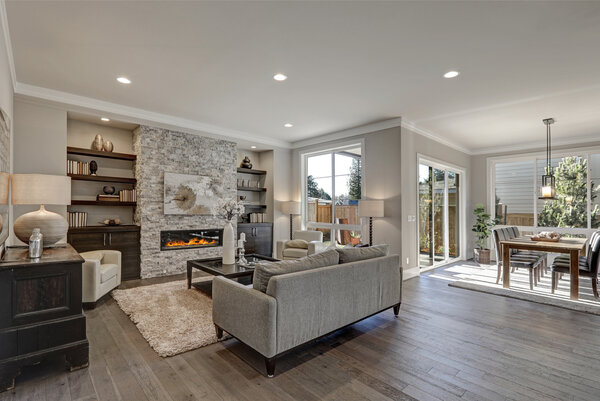 You can trust in the top-notch workmanship of the professional painters we work with. These experts take pride in their interior painting work. Our team at Five Star Painting of Muskegon is here to help refresh your home's look.
Looking for reliable painters near Muskegon? Call us or reach out online to book your free estimate. We warranty our services!
Producing Superb Outcomes
We know how important it is to love the home you live in. Creating interior spaces that are warm, inviting and suited to your personality begins with a fresh coat of paint. You'll have a broad choice of shades ranging from neutral hues to bright, vibrant colors.
At Five Star Painting of Muskegon, we work with professionals who deliver clean, crisp lines and smooth surfaces. For your convenience, we'll also see that your everyday life and household routine are disrupted as little as possible.
The contractors we assign to the project will do their best arrive at your home ready to get to work, and they'll keep the premises as tidy as they can.
If you're located in the Muskegon vicinity, call Five Star Painting of Muskegon to see how we can help transform your home's outdated rooms into truly desirable livable areas.
Types of Interior House Painting Projects We Handle
If you are considering an interior paint job for your home, Five Star Painting is prepared to do one room or twenty. You won't be limited to updating only easy or convenient areas. We'll work throughout your residence. You can arrange for us to apply a fresh coat of paint to your:
Foyer
Entryway
Hallways
Kitchen
Dining room
Living room
Family room
Bedrooms
Bathrooms
Laundry room
Garages
Attic
Basement
Are you ready to move forward with the interior design projects you have in mind for your home's interior? The team at Five Star Painting of Muskegon is here to help!
Call Five Star Painting of Muskegon to schedule your free estimate and discover the types of residential painting services we offer.

Typical Interior Painting Questions
How can I make my paint last as long as possible?
Take time to wipe away any spots that accumulate before they get trapped in the paint. It's important to take extra precaution in the kitchen. Cooking oil, once airborne, can land on the nearby walls and can lead to dead spots in your paint.
The secrets to having paint lasting long is attributed to proper prep work and expert paint application. Looking to learn more about keeping your paint healthy? Contact Five Star Painting of Muskegon today!
Count on us for professional painting services in Muskegon. Request your free estimate by or by contacting us online.