Man Cave Design Guide Part 3: The Workshop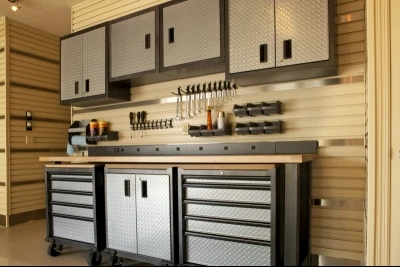 The man cave, as defined by Wikipedia is a "Man Sanctuary, such as a specially equipped garage, spare bedroom, media room, den, or basement." This is part three of our Man Cave Design Guide series, today we are going to talk about the workshop man cave. A workshop must be specially equipped for these handy guys because each one has a different craft and purpose for their work. We will cover basic shop preparation and let y'all take it from there.
Workshop for the Handyman
Generally speaking, a workshop is not exactly glamorous, but a well-planned and organized workshop area will be a beautiful thing to a guy who likes to tinker and fix. Plus, think how many things on the 'honey-do-list' could be completed around the house with a proper shop setup for your handyman.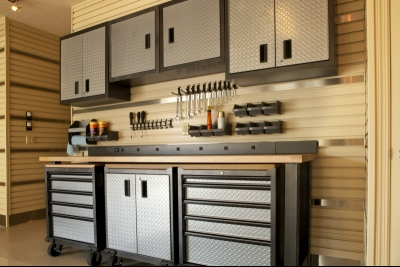 This is a nice looking workbench and cabinet design.
Location, Location, lo … yeah
The location of this 'sanctuary' will depend on the kind of handy work your fellow does. If he is a grease monkey and likes to work on cars then the garage is the obvious choice. Hopefully you have a large enough space for his projects and the minivan – maybe this needs to be a separate shed outback for his toys and projects? Hmm … good luck with that. If he is more into tinkering then perhaps one of those unused rooms in the basement would be an ideal space for him to make his inventions.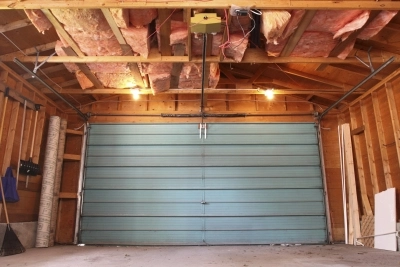 A shed or the garage may a great location for a workshop man cave.
Prevent Damage
Every space redesign starts with the basics. If you plan to add a wall or tear one out, great! My question is, what color are you going to paint this workshop? Why paint it you ask? There are a number of reasons, preventing damage to the drywall being one of the most important reasons. Not priming and painting the drywall may allow for the possibility of moisture and odors to penetrate the drywall which can cause problems.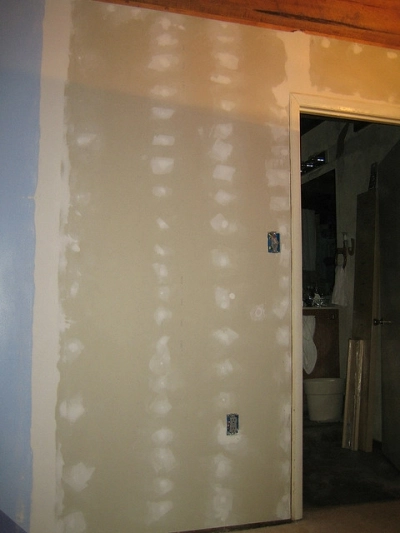 Painting drywall protects it from absorbing moisture, and it looks way better painted.
Soap Box Warning: I have a pet peeve with unfinished garages. Why wouldn't you complete the garage? If you are just starting out with a new home or revamping the room from scratch then priming and painting the drywall is easier when it's new and clean rather than later when it may have sustained some damage and grime. A finished space is easier to clean up and it's more likely to stay clean because it feels like a real room. Make sure the walls in the garage are primed and painted before you do anything else to set up this workshop. A couple of buckets of paint could save you money in the future.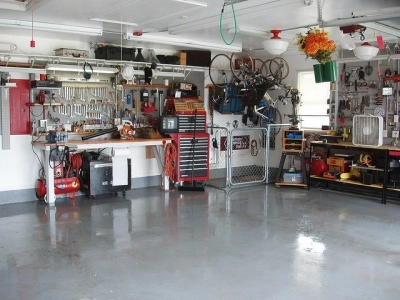 Painting the walls and sealing the floors will make cleanup a lot easier in the future.
Choose a Color
Damage prevention aside, paint helps to make any room more inviting. If your fella is going to be spending extended amounts of time in there, it ought to at least be pleasant to look at. In my experience I have yet to encounter a workshop that wasn't seriously lacking in natural sunlight. So, consider a lighter shade to help reflect the light around the room and make his work easier. While white may seem like the obvious choice, consider that the combination of stark white with fluorescent lights may seem harsh and hard on the eyes which won't help your man want to play around in his Man Cave. Check and see what colors he prefers. Ultimately it's going to be his space and he will likely have at least an idea of what color he doesn't want in his workshop, if he doesn't have a specific preference.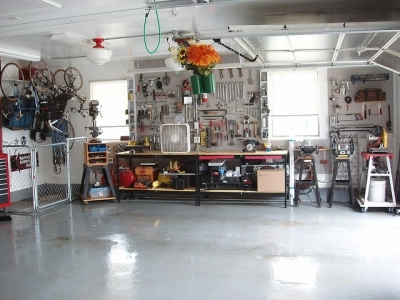 Painting the walls and ceiling makes the room more pleasant to work in.
Seal the Floor
While we are on the subject of paint, be sure to have the concrete floor sealed too, especially if this guy works on cars. Spills are inevitable and fluids from vehicles should not be allowed to seep into the ground where they can contaminate the water table. It's a thing, trust me. Sealing the floor will also make cleaning up easier which is always a plus.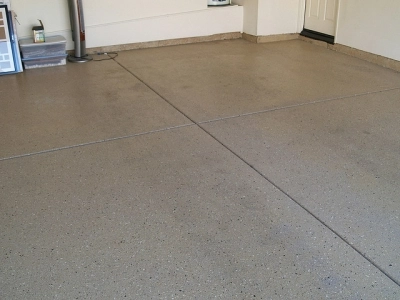 Sealing concrete will make cleaning up spills easier
Ladies, please keep in mind that while a surprise can be a nice thing, something like this really needs the input of the person who will be using the space. He will have ideas and specific things in mind for his dream workshop. He may even get excited and take over the project and all you'll have to do is help him pick out the paint color and get that muscle car poster framed.
Workbench and Lights
Together, determine exactly what he will need in relation to workspace. If he is a woodcraftsman then the tools and benches will require plenty of space. Whatever his hobby, he will know exactly what he needs for workspace. Try to plan the lights around the workspace. If a light is installed in the wrong spot it may cause his shadow to get in the way of his work. Not cool. Fluorescent lights are an effective choice for shops and are simple to install and move if the need arises.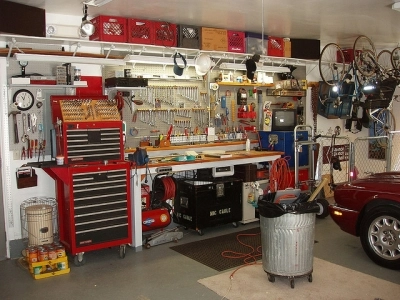 Fluorescent lights are an inexpensive and effective choice for a workbench.
Finishing Touches
This shop is going to look great! Don't forget to add a few things like a sound system so he can listen to his favorite station. Another detail you might want to consider is a cleanup station. Have an industrial sink installed where he can clean up from his projects, complete with Lava soap or my grandma's go-to for degreasing hands, dry laundry detergent – though I can't speak for how nice that is on skin. Also, stock the cabinet with rags and cleaning chemicals for whatever surfaces will need a cleaning periodically. He is going to need cleaning rags just for his workshop and he will also need a small hamper of some kind for the dirty rags and jumpsuits, so his greasy laundry stays separate from the rest of the laundry. That way everything stays cleaner and you're both happy.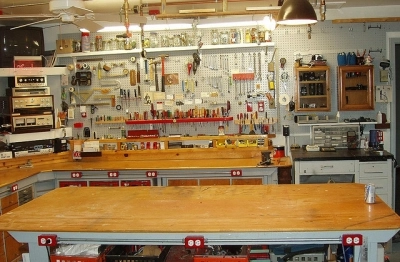 This is a fantastic workshop, great workspace, lighting, storage and a sound system.
That's all I have today. I would love to hear your ideas on this. What kinds of things would you say are a necessity for a workshop man cave? Post your comments on Facebook and checkout our Pinterest board for more ideas.
Have fun!