Painting Pressure-Treated Wood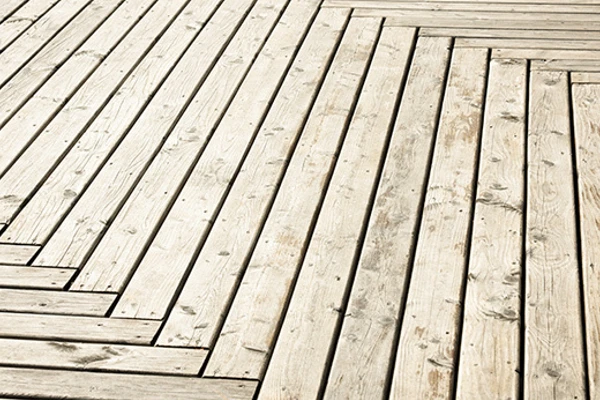 Yes, you can paint or stain pressure-treated wood, but for a long-lasting and great-looking finish evaluate the wood's moisture content first, then use the correct paint and primer. Keep reading for detailed how to tips.
How to Paint Pressure-Treated Wood
Pressure-treated wood needs time to dry out before it's painted, which takes a lot longer than kiln-dried lumber. If you just purchased it from the hardware store, chances are it's still too wet to paint. If water beads up on the surface, it needs time to dry. Pressure-treated lumber can take weeks or even months to dry. Once the wood absorbs water on the surface, it's ready for paint.
It's important to use the correct type of paint and primer on pressure-treated wood. Our experts recommend priming with a latex primer and a compatible exterior latex paint, also known as water-based paint. We recommend you avoid oil-based paint.
Prep
Prep the area by cleaning it with soap and water to remove dirt and debris.
If the deck is in poor shape, use a commercial deck and wood cleaner and a power washer if necessary. Let the wood to dry before you paint it.
Paint
Once the wood is ready, brush, roll or spray on the primer.
Allow the primer to cure for the time specified by the manufacturer. Follow up with a coat of exterior latex paint and apply at least two coats.
Follow the recoat time window specified by the manufacturer, typically a few hours.
Congrats, you did it! Need more tips on how to paint your deck? Check out our blog on how to paint a deck the right way.
Can You Stain Pressure-Treated Lumber?
You sure can! In some cases, stain is preferred since it soaks into the wood and is easier to apply. However, you have fewer color options, and stain won't fill in small cracks in the wood like paint will. Whichever route you choose, follow the same steps above to stain pressure-treated wood. For stain, we recommend using an oil-based semitransparent exterior stain.
When You Need Professional Help
The above steps may be more than labor-intensive than you had initially imagined. If so, contact Five Star Painting. Our professional deck painting and staining services will give your deck a fresh coat of paint or stain. Give us a call at (888) 261-3633 or request a free estimate online and give your deck a new look and protect your investment at the same time.