Paint Your Deck to Get Ready for Summer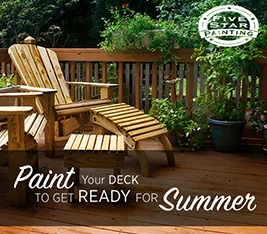 Like many homeowners, you probably have a deck located off your kitchen, family room or other interior space. With summer about to enter into full bloom, your deck provides the ideal place for relaxation, entertainment and other events. With long days and warm summer nights—undoubtedly your deck will receive plenty of activity. Before you pull out the deck furniture, add ambient lighting and adorn the space with lanterns and tiki torches, make sure that you conduct an inspection to ensure that your deck is in good condition.
Similar to any surface that endures years of active use and exposure to extreme weather conditions, your deck may need some work If the deck has a dull look or needs new life, all you need is a fresh coat of paint/stain and the right color to dress it up.
Here are a few tips to ensure that your deck painting project goes smoothly and get it ready for those summertime parties.
How to Prepare Your Deck for Painting
Before you apply paint to the deck, make sure that you remove all dust dirt, grease, and other loose material. The deck should also be dry and free from mold and mildew. Failure to properly clean the surface of the deck before painting will result in paint or other finishes sticking to the surface and may end up flaking and peeling. Sweep the deck to remove all leaves and other debris.
The type of cleaner you select depends on the structure's material and the types of stains you need to remove from the deck's surface. The most common chemicals found in leading decking cleaning products include:
Sodium per carbonate: This chemical is oxygen-based bleach combined with water. It functions as a detergent and is perfect for removing dirt, mildew and weathered wood.
Sodium hypochlorite: This product consists ofchlorine bleach and should be mixed with ammonia-free detergent. It works for removing mildew, but will has minimal effectiveness when it comes to the removal of dirt or other stains. Make sure that you give the deck a thorough rinse to remove all of the chemicals, which can eat away at the wood and cause fuzzing and premature graying.
Oxalic acid: This product works effectively for removing iron stains as well as the brown-black tannins, which is an issue with redwood and cedar decks. Since oxalic acid will not remove mildew, you should apply it after cleaning the deck with a bleach-based cleaner.
To remove the finish on your deck, choose a product that has sodium hydroxide(lye). You should check the manufacturer's recommendation for proper usage deck cleaner.
Choose Your Deck Paint/Stain
Now, you're ready to add some new life and flair to your deck with a fresh coat of paint or stain. For less expensive grades of woods like pine, many homeowners prefer to paint the deck. Make sure that you apply a primer before applying the paint. Depending on the amount of traffic wear and deck care, you will need to recoat the deck about every 3-5 years.
You can also use solid stain for deck painting. Available in a variety of colors, stains can provide years of protection from the sun and other elements, while adding a dramatic look to your deck.
Whether you have a large or small project, Five Star Painting can help you with deck painting as well as other interior and exterior painting jobs. Specializing in residential and commercial painting, we have the mission of providing a perfect paint job quality and customer satisfaction.
Trade Magazine: APC (American Painting Contractors)
In the May 2016 edition of APC magazine, Five Star Painting of Austin's Dan Schaeffer provided expert tips on how to prepare your deck for painting. Flip through the pages or click the image to read the article.