Five Star Painting of Brooklyn Park is on a mission to add color that uplifts and enhances business environments in our community. Our job is to pay attention to the details and deliver the full-scale painting your business requires.
We work with a variety of industries to refresh and revive the appeal of their indoor and outdoor environments so employees, clients and customers feel comfortable and impressed. We work with qualified painters who can handle the preparation, priming and painting for you.
Achieving the right ambiance can add value to a business environment. It's our pleasure to assist you with the painting process.
Examples of Commercial Painting Projects
We can help you navigate a number of commercial painting projects, such as refreshing:
Cafeterias and kitchens
Conference areas
Executive suites
Locker rooms
Storage areas
Classrooms
Corridors and hallways
Lobbies and reception rooms
Showrooms
Warehouses
Why Hire a Professional?
When working with a professional painter, the benefits are numerous. You can have security in the fact that the label of 'professionals' entails painting day in and day out for a living.
For those wanting a paint job done right, it is often best to entrust it to someone who is familiar with common hurtles that arise during a painting project, who understands the right materials to use, who knows the right pressure needed to apply paint on different textures, etc. For this reason, Five Star Painting of Brooklyn Park is ready to help you!
Full or Partial Interior and Exterior Projects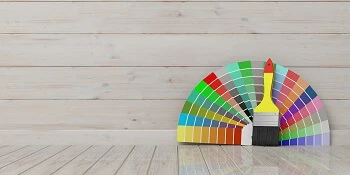 Branding your business with color is a goal we can help you achieve. Getting the application just right is our specialty, and we'll use the exact colors and layout you specify. Your project will be completed using first-rate materials and high-quality paints from Behr® and Sherwin-Williams®.
We work with painters who are experts at applying color on a variety of surfaces, including but not limited to:
Brick
Stucco
Wood
Drywall
Vinyl
For more details, call us today or contact us here to let us know what you want to accomplish.
Leave the Work to Five Star Painting!
Why not update your business with paint? It's a durable, economical material that can change a room, and we're just the team to manage your painting needs. You want painters who are skilled and experienced, and the team at Five Star Painting of Brooklyn Park can deliver high-quality painting services to your door.
Call Five Star Painting now and schedule a free estimate for any of our painting and refinishing services in Brooklyn Park.