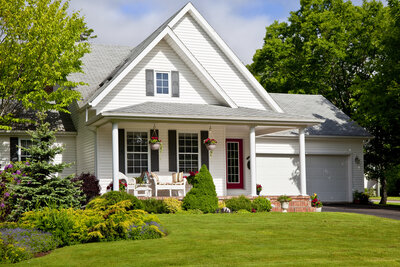 Five Star Painting of Manassas can manage a wide variety of exterior residential painting projects.
These exterior painting projects include:
Performing touch-ups,
Utilizing brand-new colors that stand out, and
Using standard colors that help the house beautifully blend in with the rest of the neighborhood.
Let us know whether you want your house to stand out on the block; we can help you with that, too.
We could also touch up the exterior paint job to spruce up your home's exterior, making it look new again.
Want to save some money on your project? Visit our special offers to check out our available coupons. Contact us today if you'd like a free estimate.
What Types of Exterior Painting Projects Can We Tackle?
We have access to many skilled painting contractors who know how to handle:
Home exteriors
Garages
Porches
Pool and marine painting
Roof painting
Barns
Sheds
Outbuildings
Playhouses
Fences
Decks
Exterior trim painting
If you have any questions or don't see your needs listed, contact us at (703) 854-9890 for more information on our exterior residential painting services.
When Should I Have My Home Painted?
This can be addressed in a couple of ways:
The time of year your home should be painted, and
The signs your home needs a new paint job.
The Best Time of Year for Exterior Painting
In Manassas, VA, the best seasons for scheduling your exterior paint job are spring, summer, and fall. The temperatures during winter are generally too cold for exterior paint to bond properly to your home.
The fact is - it ultimately depends on the weather. Whenever you need your home painted, just give us a call. We'll schedule your project around the weather without a problem.
How to Know if Your Home Needs New Exterior Paint
Is your exterior paint fading, cracking, chipping, or pealing? If so, those are all signs of paint failure. If you notice paint failure, it's definitely time for a new paint job.
Paint helps protect your siding and trim from the elements. Paint failure means those parts of your home are exposed so it's important to have it painted.
Do you have any questions about your project? Call our Manassas exterior painting company at (703) 854-9890 or contact us online. We're ready and happy to help.
What Process Do We Follow for Exterior Residential Painting?
Typically, the painters we work with follow a three-step process for exterior residential painting. Our process is designed to deliver a professional, long-lasting paint job.
Our process is as follows:
First, the painting contractors prep the exterior space by thoroughly cleaning the surface to be painted.
Then, they apply coats of high-quality primer.
Finally, they will paint the area.
You can rest assured that the exterior painters we send out to you won't take shortcuts.
Check out our reviews to see why our clients love our services. You're welcome to visit our photo gallery to see our work!
Our #1 Goal - Your Complete Satisfaction


We stay arrive on time, stay on budget, and use high-quality paints to deliver the best possible service for clients.
We pay attention to details throughout the entire process, making sure the surface area is completely free of dirt and debris.
If there is any damage to the area, such as rotting wood, we will let you know so that it can be repaired before we begin.
Customer Satisfaction Is Most Important
At Five Star Painting of Manassas, we leave our clients fully satisfied with the end results.
We want everyone we work for to be happy with what we provide so that they will refer us to their friends and neighbors.