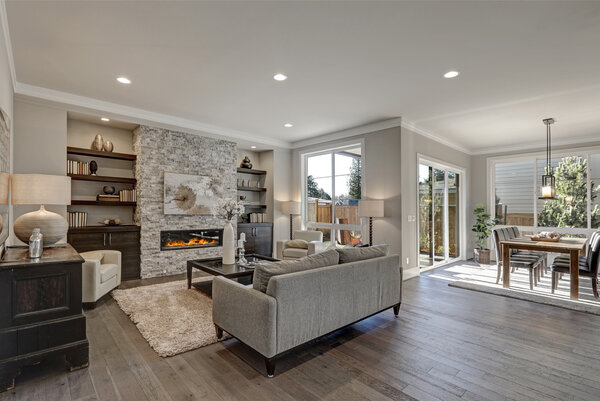 We pride ourselves in customer satisfaction and refuse to apply inferior paints. From years of experience on the job, we know that the Behr® and Sherwin-Williams® paints are some of the best on the market. When it comes to interior paints, you can't go wrong with high-quality paints in the hands of master painters who have the techniques, tools, and workflow management to make short work of interior spaces. Call us today so that you can relax tomorrow.
Refresh your home with quality paint today! Contact our team of experts at (843) 940-7645.
Invest in Your Home's Curb Appeal
Are you in the process of thinking of selling your Charleston home? Interior painting is a great investment towards making your home ready to sell! Many buyers seek a home that is a "move-in ready" appearance. Outdated paint colors dirty walls communicate to buyers that there is a lot of work to be done. Why not have the interior walls painted in colors that are attractive, neutral and appeal. This will help your home appeal to a wide range of buyers!
Make your Charleston, SC, area home feel like new. Contact us today at (843) 940-7645.
Types of Rooms We Paint
Five Star Painting of Charleston can accept work related to, but not limited to, the following interior spaces:
Hallways
Ceilings
Game rooms
Living rooms
Dining rooms
Bedrooms
Bathrooms
Finished basements
Finished garages
Attics
Kitchens
Engineered Paints Add Function to Any Living Space
The high-quality Sherwin-Williams® and Behr® paints that we use are not just pretty colors. Many of the paints also have high-functionality to increase the versatility of your interior investment. Invest in specialized paints for kitchen, bathroom, and laundry areas to eliminate odors and reduce the risk of bacterial growth in humid environments. These paints claim to kill 99.9% of bacteria within two hours of contact. Other homeowners have found a sound investment in the wipe-clean paints that we apply. Why would you want to tie up all your free time painting when the painters we contract with can do it for you and get the project over with in no time.
Take the first step to begin your Charleston, SC, area project. Speak with us today at (843) 940-7645.
Interior Painting Frequently Asked Questions
Should I wash my walls before I paint my home's interior?
Washing and cleaning your walls will ensure your paint job is high-quality. Not cleaning your walls will result in a low-quality paint job. It's more efficient to wash your walls prior to your paint job. If paint is applied over dirty walls, the paint won't stick correctly to the surface. This can cause the paint to peel much sooner than it should and can be decrease the value of the high-quality paint used.