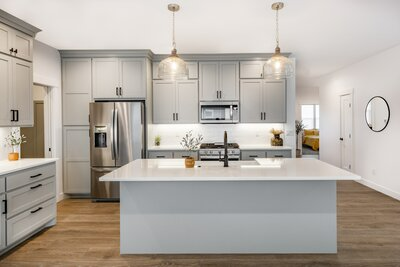 Painted surfaces around your home naturally lose their vibrancy over time from airborne dirt and sun fading. Therefore, you should consider repainting your home's interior every three to five years. Trying to do the job yourself can be frustrating, though, especially when you have kids or a busy lifestyle.
Therefore, you should consider hiring a contractor to complete the job for you. Oftentimes, they'll be able to complete the work faster than you could. Plus, their experience means there's less risk of damaging the rest of the room.
Our interior residential painters can paint all rooms, including:
Hallways
Ceilings
Bathrooms
Finished basements
Laundry room
Mudroom
Don't trust online and phone estimates. Precise measurements are required, and you should discuss information about the room's needs to find the right paint.
Schedule your on-site consultation and estimate today! You can get in touch with us online or by dialing.
Our Holland Exterior House Painting Services

The exterior appearance of your home sets the tone for every one entering. If the outside is dingy or old-looking, the inside will feel the same regardless of how well-maintained you keep it. That's why keeping the outside looking vibrant is so important regardless of whether you're looking to sell anytime soon.
While your home may not need the entire exterior painted, some surfaces could benefit from a fresh coat. The challenge is making sure you match the surface type with the kind of paint to ensure it has good adhesion and doesn't start peeling prematurely.
Our exterior residential painters can also paint:
Sheds
Porches
Decks
Fences
Exterior trim
Garage door
Other exterior doors
You're welcome to check out our photo gallery to see some of our work. To book your free estimate, call us today.
What to Consider When Hiring House Painters
Inviting a contractor into your home can be a nerve-wracking experience. Will they respect your space, take care to not make a mess, and clean up when they're done? These are all valid concerns when looking for a painting contractor.
Five-star Painting of Holland works with painting professionals who get the job done right the first time. This means preparing the space properly, using care while completing the job, and thoroughly cleaning up when they're done. You'll have a great experience that will leave you wondering why you didn't get that paint job done sooner.
Ready to get started? Give us a call or contact us online to schedule your free estimate today. We look forward to enlivening your home!