Think of how cabinets have changed over the decades. Does your home exhibit styles from the 1970s or the 2010s? The contractors we work with are great at refreshing cabinets to update styles.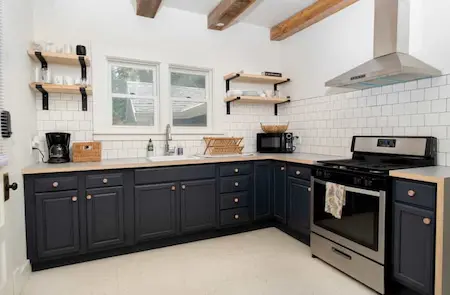 Our experienced team of painting contractors know how to do small repairs to wood. With their amount of experience, they also know the best methods to remove old paint or finishes and apply new ones!

Refresh Your Home With Cabinet Painting in Lake Mary
Did you know that you can save a considerable amount of money and time by having your cabinets repainted? If you're looking to remodel your home, cabinet painting is a great alternative to replacing them.
When compared to replacing, it's lower price allows you to spend money and invest in other parts of your home while still receiving a new and refreshed look that you'll love!
Quality Painters That Care
At Five Star Painting of Lake Mary, we take pride in our work. The teams of painters we work with are some of the best in the business. We also use only the best when it comes to materials.
Five Star Painting of Lake Mary knows how important your home and family is to you. That's why we offer options like low-VOC and no-VOC paints. The days when painting meant funny smells and headaches are long gone. We use premium paints like Behr® and Sherwin-Williams® in our projects.
Do you have a cabinet project in mind? Call us today to set up a free estimate.


The People We Work With
The teams of painting contractors we work with are selected carefully. We look for people who are skilled in their trade and professional in demeanor. Our goal at Five Star Painting of Lake Mary is to make your vision a reality. We'll treat your home with respect and care.

The painters we work with are well-trained. They have the basic carpentry knowledge needed to make necessary small repairs to your cabinets. They also know how to strip and refinish them. Cabinetry face-lifts can transform spaces and make them feel contemporary.
Our Cabinet Refresh Services
The word cabinet conjures up images of the kitchen for most people. If you think about your home, though, you'll realize cabinets are a storage solution in nearly every room. At Five Star Painting of Lake Mary, we've refreshed cabinets of all shapes and sizes and in all sorts of spaces. We can refinish and repaint cabinets in:
Bathrooms
Kitchen islands
Built-in shelves
Pantries
Closets
Garages
Laundry rooms
The contractors we work with are also experienced with different materials. Cabinets are constructed with a number of materials, and we know them. Whether your cabinets are solid wood or MDF, framed or unframed, we'll know exactly how to handle them. You can have confidence in us.
If you're in Lake Mary or a nearby community, call us today to set up a consultation.