Our Cabinet Painting Experts Near You Can Help
While cabinets may seem small, they have lots of intricate parts that can be gummed up or ruined if a paint job goes awry. Even the simplest cabinets must be painted a certain way to deliver the desired effect, and the painting contractors who we work with at Five Star Painting of Naperville know just how to deliver the perfect touch that will make your cabinets look like they're brand-new.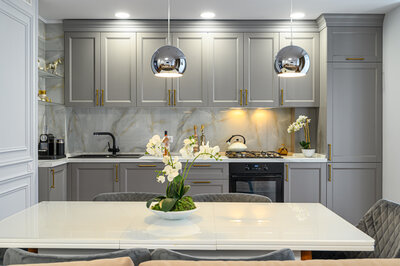 We'll strive to address any concerns you may have about the process. Not only do these contractors bring their cabinet painting know-how with them, but they also carry all of the tools they'll need for the job, which streamlines the painting process.
Once they've successfully deployed fresh coats of paint to all of your cabinets, they'll also pack out all of their waste and make sure to avoid leaving any mess behind when they leave for the day. For all these reasons and more, working with professional painting contractors is the best way to ensure that your cabinets get painted stylishly and effectively.

Don't leave your cabinets behind. Give them a new lease on life by calling Five Star Painting today.
Typical Cabinet Painting Questions
How long will my newly painted cabinets last?
Want to learn more about how cabinet painting can benefit your Naperville home? Our freshly painted cabinets are designed to last! The time your cabinets new coat will last will primarily depend on what type of paint you decide on and how you treat them.
With proper upkeep and maintenance, you can expect your freshly painted cabinets to last up to 8-10 years. Looking for more information about how you can upkeep your cabinets? Contact our team of cabinet painters today!
What kind of paint is used for my cabinets?
We know that the paint used largely in a project largely contributes to the outcome of your painting. We ensure this high quality by using professional quality paints from Sherwin Williams and Behr to ensure a great looking result!
What other services do you offer?
Are you interested in other ways to enhance the look of your home? We offer other residential painting services such as interior & exterior house painting! Reach our to our team to learn how we can help revitalize your home today!