Our Five-star Commitment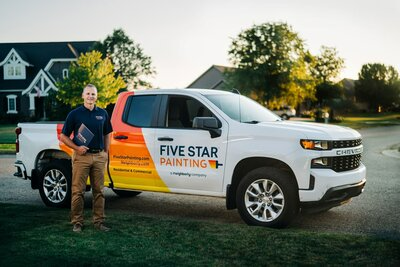 Perhaps you may be wondering why you should consider Five Star Painting of Spokane as your go-to residential painting company in the local area.
There are a lot of things that make our Spokane residential painters exceptionally committed to our work.
These include:
Our commitment to time
Our commitment to budget
Our commitment to value
Our commitment to cleanliness and efficiency
We Stay On Time and On Budget
First, our goal is that all projects will be done according to the agreed timeline and budget.
Spokane residents will know that Five Star Painting of Spokane can give the best value for the quality of work that the painting contractors we work with can provide.
We Keep Your Home Clean
The next part of the Five Star Commitment is cleanliness.
Other house painters may leave it up to you to tidy up the after-work mess. Not us.
We, however, make sure that your home is clean before we leave. It's as simple as that.
Call our Spokane house painters to schedule your free estimate. We warranty our services for your peace of mind.
The Work Process
What will you expect when getting residential painting services in Spokane?
Step One: We Prep
If you are planning to have exterior work done, surface preparation is the first part of the process to ensure that the paint will adhere to the walls without any problems.
When choosing interior painting services, the contractors will first inspect the areas and the current surface to see if it needs further preparation.
Step Two: We Paint Using Premium Paint
The next part is making sure that the painting team uses high-quality paint variants.
At Five Star Painting of Spokane, we use quality paints to make sure that the surfaces are even and will last long-term. The best kinds of interior paint variants can last as much as three to 10 years.
By using top-tier paint brands, the work of the painters will remain fresh and vibrant within that timeline.
Step Three: We Perform the Walk Through
After we've cleaned up, we'll perform a final walk-through with you to ensure you're 100% satisfied with our work.
We'll also leave you with a two-year warranty for your peace of mind. With us - your job isn't done until it's done right.
Ready to know more about our services? Call us to schedule your free estimate today.