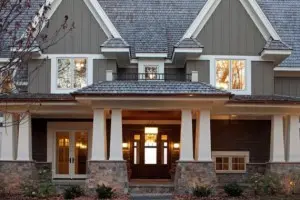 There are definitely times in life when the exterior of your home may appear a bit too dull. When you notice this occurring, it is definitely time that you consider adding a fresh coat of paint to it with the help of professional house painters at Five Star Painting.
We are here to help you change the scenery of your space by conducting a professional painting job in it. Of course, you can opt to conduct the job yourself, but if you are not a professional in this field, it is best that you leave it to the experts before something goes wrong. It can definitely help you save a lot of time and money in the long run.
Entrance Door
One of the first things that people notice about a house is the front door. For this reason, try making the most of it by choosing a new color of paint that goes hand-hand with your personality and lifestyle. Believe it or not, our belongings can say a lot about the type of individuals that we are.
Increase Your Property's Value
If you are thinking about selling your house, then it would be a fantastic idea if you consider adding a new fresh coat of paint to your walls, as it can be of great help when it comes to attracting potential clientele. In addition, it can help increase the value of your house. Another thing that can help increase your property's value is a new landscaping design.
Protect Your House
Protecting your house of cracking, peeling, and fading paint is a must. These types of negative effects are mostly due to the weather; therefore, searching for different exterior paint solutions that can protect your walls from these negative effects can be of great help. For every project we conduct here at Five Star, we only use high-quality paints.
Analyze Your Neighborhood
If you are having a difficult time choosing the adequate color of paint, it would be a good idea if you opted to analyze the houses that are in your area. Looking around to find out what type of style your neighbors have can help you come up with ideas of the colors that you would like for your home's exterior deck, fence, or porch. Remember, first impressions are everything in homes, so don't hesitate in giving Five Star house painters of Atlanta a call. We will be more than happy to help you commence and complete your painting project.
Top Five Reasons to Consider Adding a Fresh Coat of Paint to the Exterior of Your Home:
Solves fading color or peeling paint.
It would be a new change of scenery for your outdoor space.
It will compliment your housing landscape and style.
It can help increase the value of your home.
It will enhance your curb appeal by a mile.
Five Star Exterior House Painters
We at Five Star Painting of Atlanta have the exterior house painters that you can count on. We can add the fresh coat of paint to your fences, homes, business space, commercial space, and etc. in a timely fashion manner and at an affordable price.
At Five Star Painting, our house painters are completely dedicated in providing every customer with top-notch professional painting. We are constantly striving to change the stigma that numerous of individuals in Atlanta have about professional painting contractors.
Changing the exterior appearance of your business or home space is the ideal way to make the first impression that you want. We at Five Star Painting strive to always delivery exterior painting services that can last for many years to come. Our painting contractors in Marietta are here to help you in all your exterior painting needs!