In short, a lot of preparation, thought, and skill goes into an interior house painting project. It isn't as simple as getting some cans of paint and painting over the weekend.
An average-sized room takes about 2-4 days to paint. Do you need all your rooms painted? If so, you can imagine how long it could take if you plan to paint only on weekends!
The thing about hiring professional interior painters is exactly that. They are professional interior painters. For instance, at Five Star Painting of Atlanta, our interior painters will:
Take the time to thoroughly prepare your project (surface preparation is one of the key components to a long-lasting paint job)
Use premium paint (paint quality is also critical to a long-lasting paint job)
Apply the new paint using proper paint application techniques
Walkthrough the project with you at the end to ensure you're satisfied!
Simply put, we're customer-focused and quality-driven. Painting your interiors isn't just "a job" to us. Your home is the backdrop of your life. As homeowners ourselves, we get that.
Ready to book your free interior home painting estimate? Reach out online! We'd love to meet with you and discuss your project!
Clean and Professional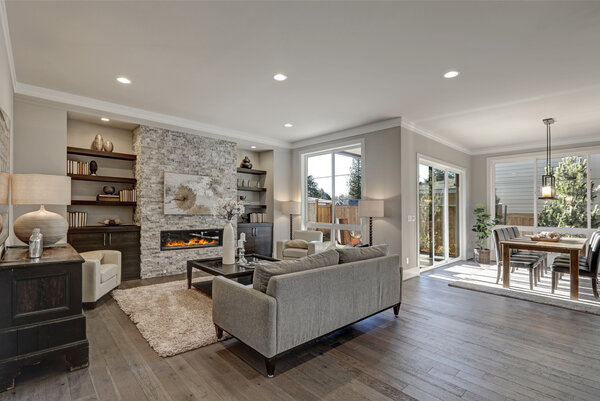 When you hire Five Star Painting of Atlanta to paint the interior of your space, you'll not only get a professional paint job, but we won't leave behind any mess either. We will leave you a clean finish of paint with no mess or residue left behind.
Our Atlanta interior painters are courteous and take care to clean up after themselves when they're done with a job. We strive to impress you, from start to finish.
The Interior House Painting Services We Offer
Our interior painting services in Atlanta extend to any interior room, including the following:
Bedrooms
Bathrooms
Kitchens
Dining rooms
Living rooms
Garages
Game rooms
Quality Products Equal Quality Results
At Five Star Painting of Atlanta, we realize that quality starts with the products that one uses. In order to deliver quality results, we begin with quality paint. We use Sherwin-Williams® and Benjamin Moore® paints to provide our customers with beautiful paint finishes. Not only do these paints offer quality colors, but they also dry quickly and evenly.
Schedule an estimate for your interior painting job.
Need Trustworthy & Professional Interior Painters? We've Got You Covered.
Your interior painters at Five Star Painting of Atlanta are professionals you can trust. We'll always treat you with the respect that you deserve, and when we provide you with an estimate, we'll honor it. When any of our team members enter your home, you can be assured that they'll treat it with respect as well.
We Offer a Two-year Warranty!
And for your peace of mind, we warranty our interior painting services for two years. With us, the job isn't done until it's done right! This is our promise to you.
Excellent Customer Service
Our customers are the heart of our business. Without you, we would be nothing, and that's why we'll provide you with excellent customer service. If you have any questions or concerns, we are more than happy to address them. Our friendly, polite staff will always serve you to the best of their ability.
Schedule an estimate for your home in Atlanta if you need its interior painted.