Our Professional Interior Painters in Naples Are Here To Help
Our interior painters in Naples are not limited to living rooms and bedrooms; we paint other areas also. Whether you need your bathrooms, kitchens, or home office repainted, we can handle it.
Do you have elements that need special attention, such as removing wallpaper? We can take care of it! Here are just some of the interior spaces we paint:
Home offices
Garages
Kitchens
Laundry rooms
Bathrooms
Bedrooms
Looking for superior interior house painters near you? Call our pros at Five Star Painting of Naples for your free estimate! Our team proudly serves Naples, Bonita Springs, and Marco Island.
When Should I Repaint My Interior Spaces?
When you repaint your interior space depends on the area! High-trafficked rooms, like hallways, should be painted every two to three years. In comparison, ceilings don't often need to be repainted unless they've been damaged by water or mold. That's why working with professionals up-front is a good idea. They'll have the skills needed to revitalize your rooms.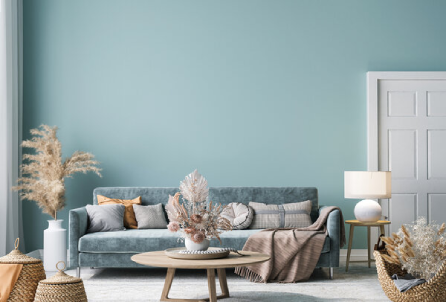 Are you selling your home? It would be a great idea to dress it up by investing in professional interior painting. When your home is move-in ready, it may be more attractive to buyers who won't have a lot of extra money or time for painting. We can paint your walls in colors that will match your furniture and accessories.
Keep in mind that the first impression is so important! The first thing buyers see are pictures on your home's listing. Newly painted interior spaces can certainly help make a great first impression.
Do I Need Professionals, or Can I Paint It Myself?
Interior painting is a big undertaking. Especially when you're busy with your day-to-day life, like working and taking care of your family.
As you might imagine, there's quite a bit of prep work and clean-up for each project. Prep and clean-up include:
Choosing the right type of paint for each room,
Buying all the required materials,
Covering your floors and furniture,
Removing any wallpaper, and
Applying painter's tape.
By hiring Five Star Painting of Naples, you don't have to worry about the prep and clean-up! We'd take care of everything from start to finish.
Further, did you know that bathrooms and kitchens should use mildew-resistant paint? Without it, mold can grow from condensation collecting in the drywall or plaster beneath the paint. We take these details into account when painting interior rooms.
Do you want your interior spaces painted above and beyond your expectations? Hiring professional painters is for you! Inexperienced painters often make mistakes. They make messes, neglect preparation, or forget to apply all the necessary coats.
We also offer other residential painting services aside from interior painting! Are you looking to get started with painting? The team at Five Star Painting of Naples is here to help!
With us, you can rest assured that you'd receive quality work. Read some of our five-star reviews to see how we've helped folks like you!
How Do I Start With Interior Painting?
First, decide which interior spaces you want to be painted. Also, think through the color schemes you want! The paint color should match your interior lighting and create your desired mood. If you need help creating a mood profile, visit Instagram or Pinterest for ideas that are like yours. You can either:
Next, schedule a free estimate with our local interior painters. In our consultation, we can talk about your project in greater detail. We'll understand what you want out of your project, and talk through paint options. We'll learn everything we can so we're set up to deliver quality work. It's as simple as that!
How can I make my paint last as long as possible?
Take time to wipe away any spots that accumulate before they get trapped in the paint. Taking extra precautions in your home's kitchen is mandatory. Cooking oil, once airborne, can land on the nearby walls & can even end up leading to dead spots in your paint.
The secrets to having paint last long is attributed to proper professional prep work & paint application. Looking to learn more? Contact Five Star Painting of Naples today!
Can house painting help increase my home's value?
Yes, having your interior, exterior, & even your cabinets expertly painted can help boost your home's value as well as its curb appeal. Our house painting services can be especially beneficial if you're planning to sell your home soon!
New and intriguing color schemes can help your home stand out. Aside from this, it can also help make a great first impression on your potential buyers. Plus, it's one less thing your potential buyers will need to worry about!
Are you looking to increase your home's value? Call our professional Naples interior house painters today for your free estimate!
Suggested Reading