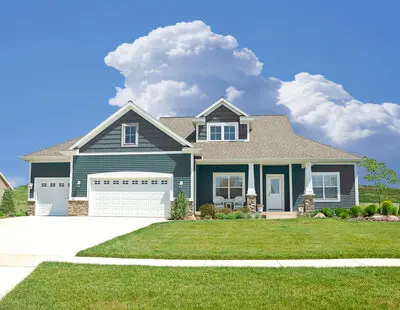 Updating the exterior of your house can make it look incredible. At Five Star Painting of Austin, we are here to help you. If you are in the market to sell your home, our exterior painting services can help to improve a home's curb appeal.
We work with exterior painting contractors in Austin who can get to work painting the exterior of your Austin home. This includes your:
Shed
Garage exterior
Deck
Trim
Outbuildings
This is to make your online and printed real estate pictures stand out among the Austin listings. Using the best paints & supplies helps our professional team give you stellar results. You would be surprised what a difference a new coat of paint makes to the look of the exterior of your house.
Count on us for quality-driven exterior house painting services! Give us a call or contact us online to book your free estimate.
Exterior Painting | FAQs
How to choose exterior house colors
There are many factors to consider when choosing a color for the outside of your home, including your neighbor's styles/colors, personal style, & current trends. Our experts can help you pick the color that will make your home's curb appeal the most attractive. With your exterior siding, we can also apply a coat of beige or tan. These shades of paint can make your house appear more refined.
How frequently should our home exterior be painted?
Your exterior should be painted about every 5 to 10 years! Doing so helps keep your home well-protected against bad weather and other elements.
When is the best time to paint the house's exterior?
The weather in Austin is generally favorable year-round. Our winters, for instance, aren't as cold as other places in the country. As such, your exterior can technically be painted year-round. We do get bad weather, but we can totally help plan your exterior paint project around the weather.
How Long Do Exterior Paint Jobs Last?
Exterior paint jobs have the potential to last up to 10 years before they start to crack, fade, and peel. Not all exterior paints are created equal though – there are paints specifically designed to last longer than others. Moreover, temperature variations can play a large part in exterior paint longevity - intense UV rays from the sun can accelerate paint deterioration while colder climates may cause exterior paint to last a bit longer as they don't experience extreme temperatures. Careful selection of exterior paint accompanied by proper preparation and application will ensure that exterior paint jobs will have a good life span.
Professional Exterior Painters Near Me
At Five Star Painting of Austin, we aren't your average exterior house painters! We take house painting to the next level by providing professional service from start to finish. Our estimators, for instance, will show up at your home in uniform. And if we need to go inside, we'll wear shoe covers! We also have project managers on staff who will personally oversee every aspect of your exterior paint job.
After setting up an appointment with our team, we will do our best to arrive on time at your Austin residence. To make sure that the paint will last for many years, our experts strive to do the proper prep work. We work with Austin exterior painters who have the expertise to produce a thorough job. We're here to ensure that the job helps your exterior look polished.
Instantly make your home the envy of your whole neighborhood with the help of our exterior painting services. You can rely on our professional painting contractors. They're here to give you a great sense of pride with the outdoor appearance of your revived home.