Exterior Home Checklist: What to Do Before Painters Arrive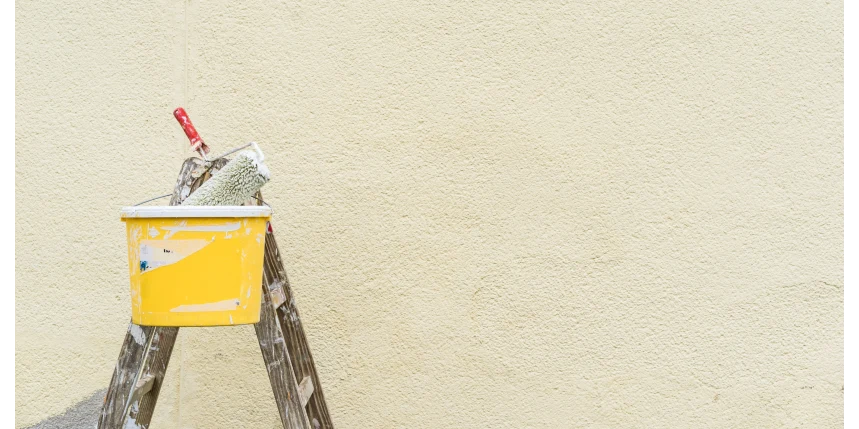 Believe it or not, there is more to do when painting your home's exterior than simply ordering up a paint crew. If you're planning to paint your home, you might be wondering whether you need to do any prep work first to make the job easier for your painters.
Although painters will do most of the preparation for you, there are a few things you can do to ensure that you maximize your painting experience from the very beginning:
Take the Time to Plan Before Scheduling Painters
If you already have the paint picked out and painters scheduled, skip to the "Pre-Prep Your Surfaces" section. Otherwise, this section may be helpful!
When preparing for your exterior painting, you'll want to give yourself plenty of time to decide on a final design for your exterior and when exactly you're going to have it painted. Here is some information you may find helpful when planning for your exterior paint job:
How Can I Choose My Exterior Color Scheme?
When completely redoing the exterior of your home, you'll want to consider the color scheme. You may already have several house color ideas on a vision board, but a good way to categorize your options includes:
Field color – most of your exterior will include this color
Accent color – this will help your exterior's details pop
Trim color – all the trim will be this color and tie the design together
If you find that you're having trouble deciding on what will look best for your home or just want some insight and advice from seasoned professionals, you're in the right place. Our painters can walk you through a color consultation. We love talking colors and can't wait to find the perfect one for you!
When Should I Have My Home's Exterior Painted?
When painting your home's exterior, it's important to pick a time of year where humidity is low, rain is infrequent, and temperatures remain between 50°F and 90°F. In Florida, it's best to have your home painted during the winter to avoid rainy weather and hurricane season.
How Long Will It Take to Paint My Home's Exterior?
Painting a one-story home with a team of professionals typically takes three to four days, depending on your area and the weather. Because of that, you should check your local weather forecast for the week ahead and plan accordingly before scheduling service.
Pre-Prep Your Surfaces
Good painters will prep your surfaces before painting to make sure they're free of any impurities and that the paint can stick properly. But, before this, there are a few things you can do to help. The more work that goes into preparing your home's exterior by both you and your team of painters, the better your results will be.
Some important exterior prep that you can complete include:
Remove Old Paint
Painters will help with this, but if you have spotted any cracked, peeling, bubbled, or otherwise damaged paint on your home's exterior, feel free to begin scraping away! Not only is it beneficial to the quality of your final result, but it's also oh so oddly satisfying!
Clean Exterior Walls and Trim
Years of dirt, dust, grime, and flaking paint has overtaken your exterior. To make sure that your paint can be applied correctly for long-lasting and beautiful results, cleaning your exterior walls, trim, and more is an absolute necessity.
Pressure Wash
Whether you rent one for yourself or just let your painters handle it, using a pressure washer can help the exterior cleaning process go by much quicker. Plus, with enough power, you can even scrape off your old paint in the same go!
Finish Up Any Repairs or Upgrades
Depending on the state of your exterior, you may want to repair the surface you're painting or finish some upgrades you've been considering. These could include:
Inspecting and repairing wood siding
Repairing water damage
Replacing gutters
Re-caulking any seals
Removing any rot
Sealing any holes or cracks
If you want a home makeover to look good, give yourself plenty of time to complete all of the projects.
Trim Plants, Trees, & Shrubs
Before your painters arrive, keep in mind that any bushes, trees, and plant life in your yard should be trimmed at least three inches away from the house. This will keep paint or other materials from getting on your plants and ensure that your painting company has the proper room to move around and reach even the tallest points of your home.
Let Our Team Handle the Rest
If you take anything from our exterior home prep checklist, take home the importance of hiring a professional to see the project through to the end.
At Five Star Painting of Brandon and Riverview, our team will make sure that your exterior is completely and correctly prepped before we begin. Why? Our top-rated Brandon and Riverview painters are dedicated to making sure your home's exterior can be enjoyed for decades to come.
When you're ready to see what Five Star Painting of Brandon and Riverview is all about, call our team to schedule a free estimate. Or book easily online.