Searching for a Top-rated Painter Near You? Contact Us for a Free Estimate!
Did you know a simple pop of color can transform a room? At Five Star Painting of Brandon and Riverview, we are committed to enhancing your home, one wall at a time. Our skilled Riverview painters have years of experience!
Over the years, we've cultivated refined techniques to deliver expert painting results. You don't have to pay a five-star price to receive five-star quality when you call on our team. Check out our house painting photo gallery to see for yourself!
Book your free estimate! We look forward to meeting you and improving your home!
Our Residential Painting Services
At Five Star Painting of Brandon and Riverview, we can paint your interior rooms and cabinets.
Interior Painting Services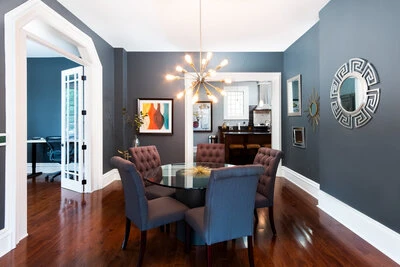 Some of the rooms we can paint include your:
Living room,
Bedrooms,
Guest room,
Bathroom,
Kitchen,
Dining room, and
Home office.
Professional interior painting can give your home an entirely new mood!
Cabinet Painting Services
Cabinet painting is an effective and affordable alternative to getting new cabinets. We're amazed at how some paint can make even 30-year-old cabinets look as good as new.
Start with A Complimentary Estimate
Our owner, Luis, or our estimator, Roland, will arrive at your home to perform the free estimate. They'll arrive in uniform and use neat technology to scope out and measure your project.
We Offer Color Consultations!
Need help picking out the best colors for your rooms or cabinets? You're in luck because we're quite gifted at color consultations!
This means we can help you choose the right colors for your home. Are you moving? We'll know which neutral colors will look best in your home and help your home stand out in the market.
If you aren't moving but need an enlivened home, we'll know which colors to recommend! Our goal is to help you fall back in love with your home.
Need Garage Floor Coating or Sealing? We Can Help!
Looking to have your garage floor be the envy of your fellow homeowners? We can do that, too! Check out this video of the process:
Count on us for quality-driven & customer-focused painting services! Book your free estimate by reaching out online or by calling us.
The Benefits of Hiring Painting Contractors
If you're planning a painting project for your home or business, you may be wondering whether it's worth it to hire professional painting contractors or try to tackle the job yourself.
While DIY painting projects can be fun and satisfying, there are several benefits to hiring professional painters that are worth considering.
Experience and Expertise. Our Riverview painting contractors have over 15 years of experience and expertise in the industry. We know the best techniques, tools, and materials to use to achieve high-quality results. We can also advise you on color choices, finishes, and other aspects of the project that you may not have considered.
Time and Convenience. Painting a room or an entire building can be a time-consuming and stressful process. By hiring painters, you can save yourself the hassle of doing it yourself and free up your time for other things. We also work efficiently and can complete the job faster than you might be able to on your own.
Quality Results. We use high-quality paint and materials, which ensures that your finished project will look great for years to come. We also have the skills and experience to ensure that the job is done right the first time, with no streaks, drips, or other imperfections.
Safety and Protection. Painting can be a hazardous activity, especially if you're working at heights or with toxic materials. Our trusted painting contractors have the necessary safety equipment and training to protect themselves and your property during the painting process.
Increased Property Value. A fresh coat of paint can do wonders for the appearance of your home or business. Our painting contractors in Riverview can help you choose colors and finishes that will enhance the value and curb appeal of your property. This can be especially beneficial if you're planning to sell your home soon.
If you're planning a painting project, it's worth considering the benefits of working with professionals who have the experience and expertise to deliver the best possible results.
See how we can help you by scheduling an appointment. Our estimates are free and we're happy to discuss all the details about your project.
The Five Star Painting Difference
Our Painters Have Everything Covered
Wondering what our painting process looks like? The process includes:
Scheduling a free estimate
Scheduling your service
Detailed preparations
Coloring your home
Thorough clean up
A complete job—on time and on budget
We Perform Final Walk-Throughs
Five Star Painting of Brandon and Riverview is the name homeowners in Riverview, Apollo Beach, and Ruskin trust when it comes to painting. Our painting company is unique because we perform walk-throughs at the end of each project we complete.
This allows us to walk through our work with you to ensure you're completely satisfied. If we find anything that needs some touching up, we'll take care of it for you without a problem. We set the bar for workmanship and lead the industry in service and performance! More than that, we use only the best painting products and supplies!
We Have a Great Reputation!
We're known for being punctual, professional, and great to work with! Check out our testimonials page to see why customers love our services!
Our owner, Luis, was brought up in the painting industry. He brings over 15 years of painting experience to your project. Learn more about Luis and our Riverview painting company on our Meet the Team page!
Give us a call or contact us online to book your free estimate. We can't wait to meet you and help enliven your home!
House Painting | Frequently Asked Questions
Does low-quality vs. high-quality paint really make a difference?
Paint quality is one of the biggest determining factors in the outcome of an interior paint job. Low-quality paints:
Tend to not last as long,
Are harder to clean, and
Won't bond to your surfaces well due to having lower resin quality.
At the end of the day, we trust you want a durable and long-lasting paint job. Our Riverview painters only use high-quality paints to ensure you're left with a paint job that lasts.
Will you prepare our surfaces before painting?
Yes, proper and thorough surface preparation is another key component to having a high-quality and long-lasting paint job. Some of the surface prep we'd performed may include:
Cleaning and washing walls, or ceilings,
Removing failed paint (this includes paint that's chipping, cracking, peeling, or bubbling),
Applying the necessary coats of primer, and
Utilizing painter's tape.
With Five Star Painting of Brandon and Riverview, you can rest assured that we won't cut any corners around proper preparation so you're left with quality workmanship.
What are you waiting for? Call our Riverview painters today to schedule your free estimate.
Do your painting contractors offer a warranty?
Yes, we back our residential and commercial painting services with a two-year warranty.
At Five Star Painting of Brandon and Riverview, we're all about delivering customer-focused and quality-driven™ service. We do this by offering a reliable warranty for your peace of mind. Visit our warranty page for more information.