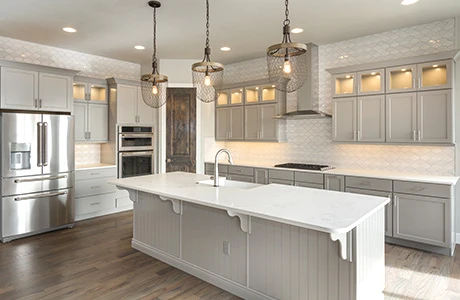 Are your kitchen cabinets a bit outdated? If so, you might be tempted to think that replacing your cabinets entirely is the only solution. Did you that you can save quite a bit of money and time by having your cabinets repainted?
Call us or schedule an estimate online for cabinet painting in Brandon and Riverview!
Why Hire Us for Your Brandon Cabinet Painting Job?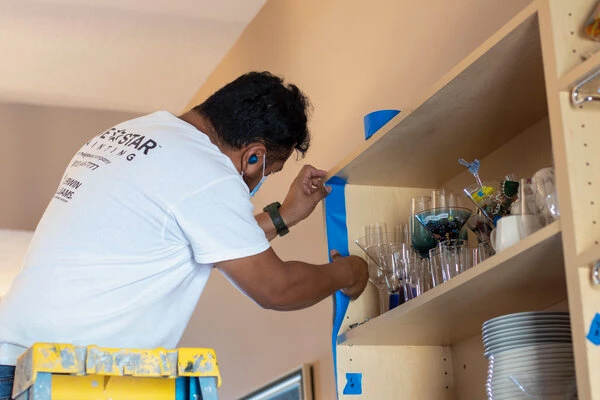 At Five Star Painting of Brandon and Riverview, we're truly customer-focused and quality-driven! Check out some of the ways we live up to this in our cabinet painting services:
We employ our painters - this means we don't send a sub-contractor out to paint your cabinets.
Combined, our painters have 15+ years of experience in the painting industry.
We offer color consultations! We know how overwhelming it can be to choose colors for your cabinets. This is why we're more than happy to help you pick the right colors.
We're owned and operated by Luis Badel, who was brought up in the painting industry. This means you'll have an experienced and qualified team painting your cabinets. To learn more about our owner, check out our Meet the Team page!
Cabinet Painting in Brandon, FL | Frequently Asked Questions
When is the best time to have our cabinets painted?
What's awesome about cabinet painting is it can be done any time of year. Rain or shine, we can paint your cabinets! Cabinet painting is an interior painting service. Thus, they aren't affected by any wet and stormy conditions outside.
This is really convenient if you're planning to sell your home! We can paint your cabinets any time of year and will work to complete your project quickly!
Looking for kitchen cabinet painters near you? Call or schedule your free estimate online today!
How effective is cabinet painting?
Trust us when we say cabinet painting can be very effective. House painting of any kind is such an easy and economical way to improve your home. This general rule certainly applies to cabinet painting. In one instance, some buyers were largely attracted to a house by the spacious and modern kitchen. Want to know the secret?
The kitchen wasn't renovated, nor were new cabinets installed. The cabinets (that were likely as old as the house), were painted a gorgeous, modern, and trendy grey. This made the kitchen "pop", impressing the buyers. Ultimately, cabinet painting helped sell the home.
There are, of course, countless other benefits of professional cabinet painting. Check out our blog to see what our kitchen cabinet painting services can do for your kitchen!
How long do painted cabinets last?
Cabinets that are professionally painted and cleaned should last a good 8 to 10 years.
What Affects the Life of Cabinet Paint?
The above range is affected by a few things. With a professional team painting them, you'll likely get a long lifespan; however, we still recommend taking basic precautions to extend it. A few things that can compromise the paint include:
Frequent cooking - Specifically, if you are cooking with a lot of oil, the splatters and transfer onto your hands and then to the cabinet can compromise the paint. We recommend taking a microfiber cloth and wiping your cabinet clean nightly if this applies to you.
Loose hardware - Make sure to tighten any hinges that come loose, as improperly placed hinges can eat away at the paint.
High humidity - You'll want to make sure you have your home humidity situation under control.
In normal circumstances, professionally painted cabinets are low-maintenance and will give you many years of use.
Why would I hire cabinet painters if I could do it myself?
While the appeal of a DIY cabinet painting project draws in many homeowners and renters, the reality of all that a project like this entails is often much larger than what people typically realize before diving into the project.
Painting your own cabinets may require:
Removing cabinet doors and hinges
Sanding cabinets
Patching cabinets
Using power tools
Applying multiple coats of paint
Hours of time
Multiple trips to your local hardware store
Deciding which materials look nice by guess and much more
...all while trying to keep paint off of the rest of your home. Because of this, hiring a professional has been a worthwhile decision in many people's cabinet painting projects.
Give us a call or schedule an estimate online from the best painters near you today!
Do you have any cleaning tips for our newly painted cabinets?
Yes! Check out some of our cabinet cleaning tips below:
Start by cleaning your cabinets with a damp, soft cloth - some microfiber cloths work great!
Do not clean your cabinets with a sponge.
Is more elbow grease needed for dirtier spots? Stay away from cleaners that contain silicone, wax, citrus, petroleum, and ammonia.
Only use paint-safe cleaning solutions.
Be sure to test your paint-safe cleaning solution on the back of a cabinet door or drawer.
Clean up messes and spills right away!
Do not hang damp linens or cloths over your cabinet doors and drawers.
Following these cleaning tips should help keep your cabinets in tip-top shape!
The Types of Cabinets We Paint
Full cabinet replacement is often expensive and time-consuming. Repainting, on the other hand, is fast and economical. When it comes to cabinets, Five Star Painting of Brandon and Riverview can repaint:
Framed cabinets
Frameless cabinets
Cabinet doors and drawers
Pantry storage
Kitchen islands
Closet storage
Built-in shelving
Did you know cabinet staining is also an option? Check out our cabinet painting and cabinet staining blog to see which option is best for you! We can also offer advice during the free estimate appointment.
Looking for professional cabinet painters in Brandon, FL? Contact us online or call to book your free estimate with our team!
Finding Your Perfect Cabinet Aesthetic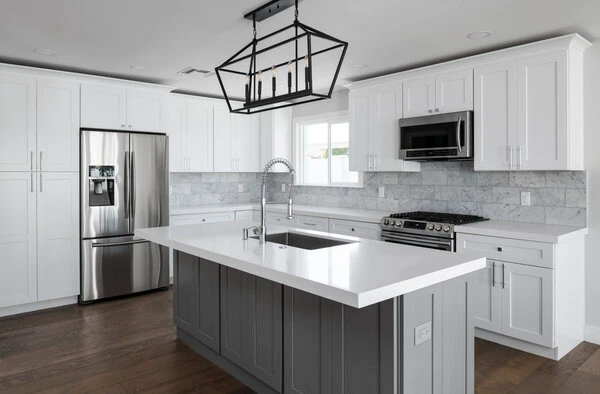 Another exciting aspect of cabinet repainting is that you have unlimited design options. Our Brandon and Riverview, FL cabinet painters use premium paints and stains. This includes paint from premier brands like Behr® and Sherwin-Williams®.
We also offer color consultations! This means we're happy to help you pick out the perfect colors. We're experts when it comes to cabinet painting and can help them look distinctly "you". Or if you're moving, we can help you pick colors that'll impress a wide audience!
Meticulous Prep for a Professional Finish
How do we ensure that finished cabinets and other surfaces look like new? It all begins with thorough and detail-oriented prep to get the surfaces ready. If your cabinets are fundamentally sound, they can look perfect when finished. If there are minor issues, we offer carpentry services as well.
Some of the preparation we commonly perform on cabinets includes:
Priming
Sanding
Caulking
Scraping
We Deliver A Five-Star Approach
Our Brandon and Riverview, FL cabinet painters are committed to staying on time and staying on your budget! You can expect skilled professionals who respect you and your home. We place great value on customer service and know the importance of customer care. We want you to love working with us and would be honored to have you as a client for many years to come.
Our professional estimators can come to your house to assess your cabinets. We'll provide you with a consultation and give you a written estimate. If you approve our quote, you'll get to schedule the work around your schedule!
You can count on us for quality-driven cabinet painting near Brandon or Riverview, FL! Schedule your appointment online or call us.
Suggested Reading