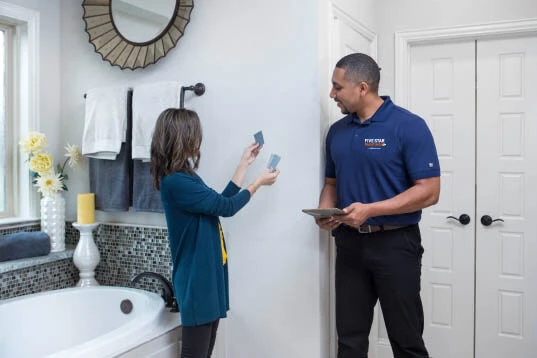 We are quality house painters in Vancouver, WA committed to bringing you the quality workmanship and professionalism you desire. Five Star Painting of Vancouver, WA, has built a reputation on its ability to deliver professional house painting as well as its ability to provide unmatched customer service. This means that we treat each customer as a unique individual, affording them the respect and honesty they deserve. We call it the Five Star Touch. And our dependable crew here at Five Star Painting of Vancouver, WA will deliver this quality workmanship and professional service on time and on budget.
Five Star Painting of Vancouver, WA uses unique customer-estimation software that gives us the ability to pin down the price of a job to the nearest cent.
This gives you the freedom to decide just what work you want done based on much discretionary funds you have available. And we guarantee we will stand by the price we estimate for you so you can rest easy knowing there won't be any surprises at the end.
Time is also something we pride ourselves on. We know that nobody wants to waste time waiting around on a painting contractor to show up and when he does he's several hours late. We at Five Star Painting of Vancouver, WA schedule all our house painting jobs so you know exactly when our workers will show up. If in the unlikely event our crew happens to be running a few minutes late, we will be thoughtful enough to call ahead and let you know so you won't be left standing around wondering what happened.
There is an old saying that "cleanliness is next to Godliness," so while we're working on your property we try to keep that in mind. We know how much your home or business means to you so we perform spot cleaning throughout, from the beginning to the end of the job. When we finished the job, we perform one final thorough cleanup so that when we leave, your home or business is just as spotless as it was the day we arrived.
In order for you to have complete peace of mind while we perform our duties, we want you to know that we are a fully licensed and insured business. This means that in the event an accident happens on your property, or some of your property is damaged, you don't have to worry about being held liable.
We can deliver the type of professional painting job you desire. Our house painters in Camas will use the tools and their substantial know-how to turn the walls of your home or office into a beautiful canvas of your choice. Each of our painters has undergone a rigorous training and certification program so that he is expert in the use of the tools necessary to make your dream a reality.
Our Ridgefield painters are proficient in both exterior and interior painting, as well as refinishing and staining fence, decks and patios. If your plans include refurbishing a deck or fence, then look no further.
In addition to providing the most professional painting services in town, our color experts can help you pick out the right color scheme for your home or business. So, whether you want to give new definition to an old office space, or to transform your home into the palace of your dreams, we have a whole rainbow of colors for you to choose from.
At Five Star Painting of Vancouver, WA, our job is to provide Five Star quality without the Five Star price.
So, just give us a call and we'll come out and give you a free on-site estimate, and we'll help you choose a plan that fits your budget, plus help you pick out the best color.