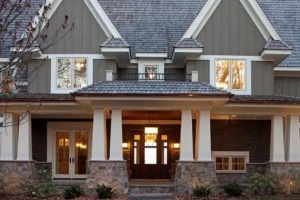 There are many reasons to hire painting contractors when you put a new coat of paint on your home. Five Star Painting of Vancouver, WA has some of the best house painters in Vancouver and our customer service is hard to beat. We are professional around your home and experts when it comes to facilitating quality color to the outside of your home. Many issues arise from painting inexperienced painters trying to finish an entire house, and even more, issues arise when the exterior of the house is left unpainted.
Get in touch with us today so you can avoid having to spend more repainting.
Some of the more obvious benefits of painting your home are to create a better-looking environment and impress your neighbors. Living in a neighborhood means there's a lot of foot traffic in front of your home and we've all lived near someone who doesn't take care of their home, bringing down the level of beauty we all look for in our domestic surroundings. A great way to avoid this is to hire contract painters to help make your home stand out in a way that people will admire and not wince at every time they drive by.
Aesthetic reasons aren't the only thing that should be driving you to paint your house. A good paint job helps your house's value go up for its looks and the quality of its grounds. If your house is on the market, poor paint puts a negative spin on your potential buyer's first impression. Seeing cracks and paint chips on the walls suggests a lack of upkeep and signals there might be more projects waiting in that buyer's future, regardless of the quality of the home. The outside of your home is as important as dressing for a job interview.
Changing the outside of your home is also the first step towards better overall home health. Nature can have devastating effects on one's house. Our services help protect your home from the elements, which over time will cause bigger issues if small ones aren't treated. Ice, snow, and rain all lead to damage to your home when there isn't a reliable coat protecting it. Our Vancouver house painters will give you suggestions on how to ensure your exterior paint job can stand up to the Vancouver climate, and protect your future from pesky repairs, and potential health hazards like mold.
Repainting your house is also a very convenient segue for redoing your yard. If you want your home to have a relaxing decor surrounding it, painting is a great first step. Once you know what color you want your house to be you can plan accordingly to build an atmosphere that you, your guests, and your kids will enjoy. Tell one of our experts what type of atmosphere you'd like to create and they'll offer expert advice on how to make your vision come true. Our goal is to help you on the way to making your home a dream home.
Hiring a house painter is important so that your paint doesn't become full of blister spots that look like alligator skin. Poorly done paint jobs also cause chalking on the outside of your home. Many people believe they have the skill to paint their own home, but only painting contractors can guarantee things will go smoothly. Most mistakes in exterior painting come from poor preparation.
Our Battle Ground painting company knows what needs to be done to prepare a house for its transformation.
These are some of the main benefits of painting your home. Without proper upkeep, a poorly painted home is the catalyst for larger issues. Hire painting contractors that will help your home be the pride of your neighborhood and signal to neighbors and buyers that your home has value. Improve the health, safety, and beauty of your home today and hire one of our painting service professionals in Vancouver, WA.