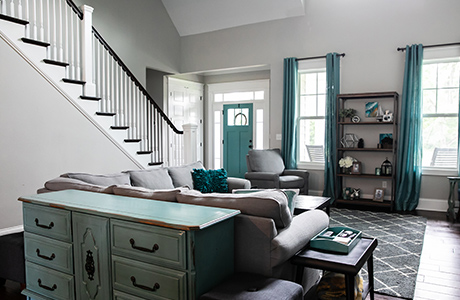 Whether you've grown bored of the color you chose two springs ago or the color that was forced upon you by the previous homeowner, your home's colors should accurately reflect your unique sense of style. Not only is this good for those who visit your home, as they'll be impressed by how well your home fits you and your family's style, but you'll also fall in love with it again.
At Five Star Painting of Vancouver, WA, we offer a wide variety of painting services for the locals of Camas and beyond. Everything from exterior archways and awnings to interior bedrooms and kitchens (cabinets included), our team can do it all. And with our free in-home estimates, our locally owned and operated team will provide you with a personalized solution with an upfront quoted price, so you can rest assured you're making the best investment for your home.


Camas Interior Painting Services
No matter the room you need to be painted, you can rely on our Camas interior house painters. From the ceiling to the floor, our team will deliver you an exceptional paint job for your home – free of the expensive price tags. And with our free estimates, we make it easier than ever to help you ensure this is the best investment for you to make.
Our team can paint virtually any room in your home, including:
Living Room
Bedroom
Bathroom
Dining Room
Hallways
Basements
From laying down tarps to wrapping your furniture, our team will ensure that your property is treated with the care and respect it deserves. With precision and skill, our house painters will paint your home's interior and finally help you create your dream space. We're confident you'll be happy with our final product.
Camas Exterior Painting Services
Our house painters in Camas know a thing or two about exterior home painting. Every day, our team assists homeowners in Camas and the surrounding areas with high-quality home painting services. With a few simple coats of paint, our team can completely transform your home and improve its curb appeal.
Our exterior home painting services include:
Doors
Door frames
Window frames
Trimming
Siding
Paneling
Whether your home's paint job has seen better days, due to weather or other damage, or the color just isn't your style anymore, turn to Five Star painting today! If you have a color in mind, great! Our team can get started quickly to deliver you an exceptional experience. If not, that's okay too! Our team will work with you to develop a design plan to help ensure you're making the right choice for you and your home.
Cabinet Painting Services
Already getting the kitchen painted? Why not the cabinets too? Our team of Camas cabinet painters is here to provide you exceptional cabinet painting services. No matter how intricate the details are, our team will deliver a complete painting solution for your home's cabinets. From cleaning to priming to painting to reinstalling the hardware, our team does everything when it comes to cabinet painting.
Some of the most common cabinet painting services in Camas include:
Kitchen cabinets
Garage cabinets
Laundry room cabinets
Bathroom cabinets
Closet cabinets
Whether your cabinets are suffering from water damage or it's just time for a new color, our team will help. From the bathroom to the kitchen, our team can paint virtually any cabinet inside your home.
Need a painting company in Camas? Give our team a call today to learn more!
The Five Star Difference Without A Five Star Price Tag
With every job we complete, we take extreme care to be on time and on budget. Whether you're looking for a few walls to be painted or gearing up for a complete makeover, our team will treat your project, time, and property with total respect and care – all backed by our dedication to competitive pricing. Our house painters continually go above and beyond our customer's expectations every day.
Some of the other benefits of working with our local team include:
No obligation, upfront, and honest estimates for all of our services – free of charge
Professional, high-quality, and efficient painting services for the whole home
Insured, licensed, and bonded painters that ensure you're delivered a quality result
Our team only uses premium and quality paints and supplies, including brands like Behr
No matter the project you need to complete, you can rely on Five Star in Camas to deliver you a flawless finish that is going to make you a customer for life. Our Camas painting contractors are here to become your dedicated and trusted partner in all current and future home projects!

When you're ready to experience the difference our team of Camas painters can make for your home's interior and exterior, give us a call or contact us online. We look forward to hearing from you!