House painters can frame the beauty of your yard with an impressive paint job. Your home sends a message to people passing by every day. The best way to make a great impression on visitors, passersby, and potential homebuyers is to have a top condition paint job. Value to your home in terms of the market and peace of mind can be significantly improved by a good paint job. Let Five Star Painting of Santa Rosa join you in the mission develop your house into something spectacular to behold.
Perhaps you're not in the market to sell, but life isn't always predictable. Our painting contractors in Healdsburg help provide upkeep for your outdoor paint by upgrading it. Increasing the value of your home with a quality paint job never hurts, regardless of whether selling is in your foreseeable future. Those looking to sell should know if the paint on the house is weathered or cracked, potential buyers will see the house as a project and it will be appraised at a lower price. Our house painters can help provide the right paint job to match the decor of your yard.
Five Star Painting of Santa Rosa has experts who can provide an impressive new look for your front door, making the gateway to your home one that cogaeys a sense of safety, comfort and well-being. We can help coordinate the color of your door with the rest of your house and with your front porch to ensure guests begin to have a positive experience before crossing the threshold into your house. A glance at your door from the street can make or break someone's perception of your home.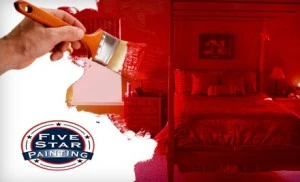 The weather can be trying at times,and it can also be downright cruel to your home. Nature can chip away at your house's paint job, which is dangerous if your home was last painted when lead-based paints were still popular. One of the main causes of chipping paint is poor preparation. Our painting contractors can help make your home safe and protect it from the elements by supplying it with a comprehensive paint job. Avoid having your paint turn to alligator skin, or bubbling with blisters and take steps to protect your home.
Five Star Painting of Santa Rosa has some of the best house painters at an affordable price. What you get out of our service is well worth what you put in. We'll discuss ideas about your home with you, explain our theories on the best execution of your paint job, and provide friendly service throughout the entire process. We are experts who look forward to taking a step back from your yard to see a house that looks as good as new. Knowing we've helped increase the value of your home and quality of your life there is what we live for.
A new paint job is one the best steps you can take to improve the value of your home. Whether you're in the market or in the market or not, our service is beneficial to homeowners. Guests will begin enjoying the comfort of your home the moment they pull up and see how well your yard and porch are tied together with the front door. Don't bite your nails over nature beating down your paint job any longer. Call us today and receive the best paint job at a price you'll be grateful for. We have some of the best painting contractors in Windsor and our expertise is at your disposal.