Cabinets play a crucial role in defining the style of any room in your home. Whether you desire a modern or traditional look, Five Star Painting of Citrus Park is here to provide top-notch cabinet painting services in Lutz, FL. Our expert team of cabinet painters collaborates closely with you to select the ideal paint type for your cabinets, breathing new life into your home. Experience the beauty of exquisitely painted cabinets. Start by learning more about our professional cabinet painting services, and then reach out to us to schedule your free estimate in Lutz or Odessa, FL.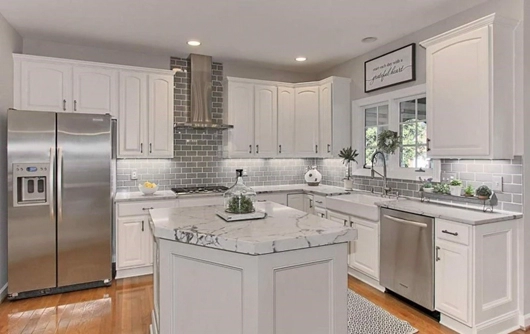 Comprehensive Cabinet Painting Solutions
At Five Star Painting of Citrus Park, we pride ourselves on catering to a wide range of cabinet painting needs. While kitchen and bathroom cabinets remain our most popular projects, we gladly tackle any interior or exterior cabinets on your property. Our skilled professionals are adept at painting various cabinet types, including:
Patio cabinets
Garage cabinets
Hutches
Laundry room cabinets
Built-in cabinets
Our Trusted Approach to Cabinet Painting
When it comes to cabinet painting, Five Star Painting of Citrus Park adheres to a meticulous process tailored to your cabinets' condition and the scope of the job. Our standard procedure comprises the following steps:
Removal of all hardware and cabinet doors.
Thorough sanding and preparation of cabinet surfaces.
Precise application of paint to the doors.
Skillful painting of mounted cabinets.
Reassemble cabinets once the paint is dry.
Options for Kitchen or Bathroom Cabinet Upgrades
Our service professionals offer a myriad of options to revitalize your cabinets. Whether your cabinets require a subtle makeover or a complete transformation, consider the following upgrade possibilities for your kitchen or bathroom:
Cabinet refacing
Cabinet painting
Cabinet replacement
Cabinet Painting vs. Cabinet Replacement
Determining the most cost-effective solution for homeowners is our expertise. Before proceeding, our service professionals assess whether cabinet painting or replacement is the best course of action. If your cabinets are in good condition, we typically recommend painting or refacing them. For cabinets in need of a substantial facelift or extensive damage, we guide you toward choosing replacements. You're in the right place if you've been searching for a cabinet painter or kitchen cabinet painter. We provide free estimates for your cost to paint kitchen cabinets.
The Benefits of Our Cabinet Painting Services
At Five Star Painting of Citrus Park, we understand that cabinet painting offers more than just aesthetic improvements. Here are some notable benefits of our cabinet painting services:
Protection from moisture and heat damage.
Transformation of your space with new colors.
More affordable than complete cabinet replacements.
Ability to update your home without investing in new cabinets.
Multiple color options to suit your style preferences.
Enhanced home value through professional cabinet painting.
Trust Our Professionals With Your Cabinet Painting
While some may consider painting cabinets as a DIY project, we strongly recommend leaving it to the professionals. Our painting experts possess the knowledge and skills to achieve successful cabinet transformations. We guide you in selecting the optimal paint type and color while executing a meticulous process that involves disassembling and reassembling your cabinets. Rely on our service professionals for expert advice and a thorough understanding of our painting approach.
Why Choose Five Star Painting of Citrus Park?
For all your painting needs, Five Star Painting of Citrus Park is your trusted partner. We bring your vision for stunning cabinets to life, utilizing high-quality, long-lasting paint. Our team offers flexible scheduling and ensures punctuality. With in-home estimates available, we prioritize your satisfaction throughout our process. Experience the transformative power of a fresh coat of paint on your cabinets by contacting us today.
Contact Us for Exceptional Cabinet Painting Services
At Five Star Painting of Citrus Park, we offer a comprehensive range of services, including exterior painting, interior painting, cabinet painting, and deck and patio painting. Our service professionals prioritize your needs, guiding you through every step of our process. We offer our services in Lutz and Odessa, FL, in addition to the surrounding neighboring areas, including Citrus Park, Keystone, and Town 'n' Country, FL. Whether you prefer vibrant or traditional cabinets, we have the perfect color of paint to suit your taste. Contact us today for a free estimate on our top-notch cabinet painting services and infuse any room with the beauty of stunning new color.