At Five Star Painting of Atlanta, we aren't your average house painters. From start to finish, we deliver customer-focused and quality-driven service.
Our estimators, for instance, will show up at your home in uniform! We'll even put booties on before entering your home.
And during the free estimate, we use sophisticated technology to measure your exterior painting project. With us, there isn't any guesswork!
We'll also take the time to show you how we'll execute your exterior painting project right the first time. Getting your project done right the first time is critical so your new paint job lasts for years.
Need Help Choosing the Right Colors? We've Got You Covered.
Exterior paint color options are endless. Did you know colors can reflect you as a homeowner? Well, they can! We would be happy to help you pick the right colors for your home!
Looking for house exterior painters that take painting to the next level? Count on us! Book your free estimate online.
No-Hassle Paint Job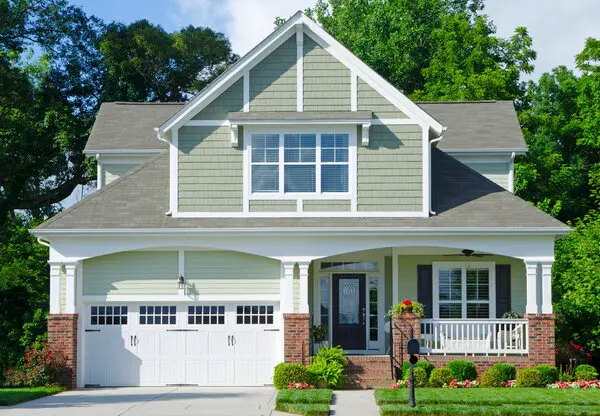 Painting can be a hassle if you attempt to do it all on your own. If you leave the job up to the experts at Five Star Painting of Atlanta, then you won't have to stress about all the places you can't reach or getting streaks in the paint. Five Star Painting of Atlanta only uses paint contractors who are experts at painting, and they know the proper and safe way to apply paint to exterior surfaces.
We Can Handle Any Exterior Paint Job
Our exterior painting services extend beyond more than the exterior surface of the home. Some of the other exterior surfaces we paint include the following:
Patios
Decks
Garages
Barns
Outbuildings
Doors
Playhouses
Shutters
Five-Star Quality Without the Price
Our motto is five-star quality without the price. At Five Star Painting of Atlanta, we think that you deserve to get top-notch, high-quality painting services without having to pay a five-star price tag. No matter what type of painting you're hoping to achieve on your exterior surfaces, we can help you achieve it.
Schedule an estimate for your place in Atlanta.
Sustainable Exterior Painting Solutions
We care about the environment just as much as you do, and that's why we'll make efforts to offer you sustainable painting services. We employ eco-friendly business practices everywhere we can, and we utilize sustainable products as much as possible.
At Five Star Painting of Atlanta, We're Locally Owned and Operated
Our company is locally owned and operated in the Atlanta area, and we treat our customers like family. We're a company that you can trust, and we take pride in what we do. We'll always work with you to work within your budget and deliver quality results.
Exterior House Painting | FAQs
How do I know my house needs a new exterior paint job?
First, your home's exterior should be painted every 5 to 10 years.
Beyond this, examine your home for failed paint. Failed paint is any paint that is:
Fading
Chipping
Peeling
Cracking
Bubbling
Failed paint is a sign that your home needs to be painted!
If you need the exterior of your home painted, contact us.