Interior painting can transform the look of any room in your home. Five Star Painting of New Port Richey provides professional residential interior painting services in New Port Richey, FL, and the surrounding areas. Our painting team will give any room in your home a fresh coat of paint, from ceiling and doors to cabinets and walls. Interior painting services are perfect when your paint is peeling, or you want to change the style of a room. Reach out to our service professionals today to learn more about our interior house painting services.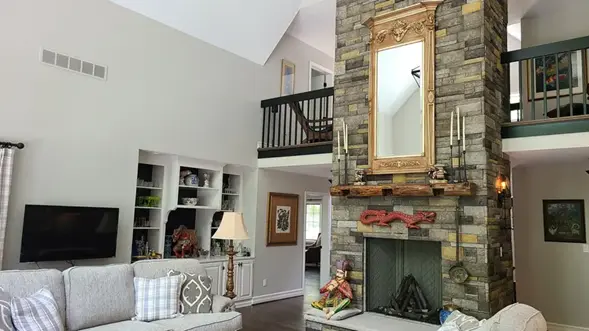 Do I Need New Interior Paint?
It may be a good time for a fresh coat of paint if your interior walls are faded, dull, or chipped. Interior painting services boost the look of a room with all types of colors and paint. We will determine if your interior walls should be prepared with new sanding or spackling or decide that it is primed and ready for the new paint job. It's never the wrong time to transform a room with paint.
The Interior House Painting Process 
We can take care of all your interior painting needs. Our team begins the process with a painting estimate. Our costs are based on the size of your space and the scope of the job. We always take time to properly prepare your surfaces for paint. Our type of prep work varies depending on your specific paint job. We offer putting, caulking, patching drywall, hand-washing, wallpaper removal, texture removal, sanding, scraping, and more. Our professional interior house painting process includes the following:
Color Selection – You can work with our paint color consultants to choose the best colors for your home. We can complement your space or give different rooms unique colors.
Work Area Protection – We apply plastic sheeting to protect your home. Our professionals place plastic sheeting or drop cloths over the furniture, flooring, and valuable items.
Surface Preparation – We prepare your surfaces by sanding any uneven places. We can also seal stains and fill cracks to get all surfaces ready to receive the paint.
Paint Application – We professionally apply your fresh coat of paint.
Clean Up – After we apply the paint, we take down the drop cloths and plastic sheets. The last step is sweeping your flooring.
Area Inspection – We thoroughly inspect the fresh coat of paint to ensure it is evenly applied. It's time to stand back and admire the new paint.
We Paint All Areas of the Home
Our interior painting services are excellent for any space in your home. We love the artwork of a new, fresh coat of paint. Our team can use the same paint color or paint different designs and unique colors in each room. Some of the most popular areas and rooms we paint include the following:
Kitchens
Bedrooms
Hallways
Living Areas
Home Theaters
Garages
Bathrooms
Foyers
Attics
Dens
Workshops
Dining Rooms
Home Offices
Studios
Home Theaters
Benefits of Interior Paint Services
Interior paint is about more than a beautiful look. Our service professionals can help you understand what paint can do for your space. Some of the most significant benefits of interior paint services include the following:
Helps to seal out moisture
Transforms the look of a room
Provides better acoustics
Enhances the mood of a room
Boosts the appeal of a room for potential buyers
Why Choose Five Star Painting of New Port Richey?
Five Star Painting of New Port Richey is proud to offer comprehensive painting services to New Port Richey, Tarpon Springs and surrounding Florida areas. Our service professionals love to help you fall in love with rooms through paint. We use high-quality Sherwin-Williams and Behr paint products. Our service professionals arrive on time and listen to your painting needs. We never leave a mess when we finish a painting service. Our team offers upfront pricing on all painting services. You can count on us to provide a high-quality interior painting service for your home.
Contact Us for Interior Painting Services Today
We are ready to help transform the look of your space with a fresh coat of paint. Whether you need a new style or your old paint is faded, our interior painting services are the perfect choice. We always work closely with our customers to choose the best paint colors for their style goals. Contact us today to get an estimate on our home interior painting services.