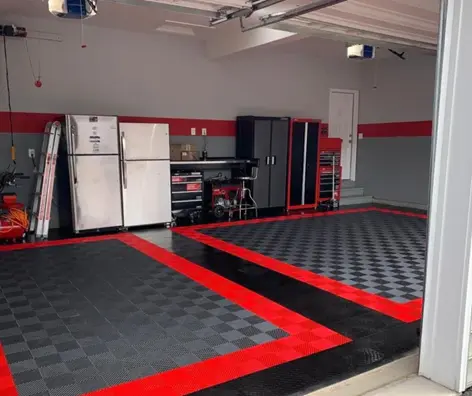 The garage floor is one of the most neglected parts of most homes. A garage floor often has heavy traffic, but it looks stunning with paint or epoxy. Five Star Painting of New Port Richey can bring your garage floors to life with garage floor painting services in New Port Richey, FL, and the surrounding area. Our service professionals work with you to ensure we get the look your love for your garage. Contact us today to get an estimate on our garage floor painting services.

Professional Garage Floor Refinishing 

Benefits
Your garage floor deserves to look as beautiful as the flooring in your home. It withstands daily dirt and debris, so protecting it is one of the best solutions to help maintain its beauty. Many people think garage floor refinishing is too much effort or expense, but they are wrong. Some of the most significant benefits of garage floor refinishing services include the following:
Helps conceal cracks and

holes

Prevents and covers

stains

Provides

stunning

aesthetics

Offers improved grip for

safety

Increases your home

value

Sets the look of the garage

space
When you're looking for the best way to upgrade your garage floors and keep them protected, we are here for you. Our concrete flooring includes diamond grinding. This is a pavement preservation technique that helps ensure a long-lasting system. Our epoxy garage floor paint is a unique coating that is available in multiple colors and acrylic flakes. It's chemical resistant for durability and is one of the most cost-effective coatings for your garage floor. Epoxy is made of two parts that are mixed right before applying them for a tough finish. We properly prepare your flooring for epoxy to eliminate all grease, dirt, and debris.
Before We Begin Garage Floor Painting
Determining how you want to use your garage before choosing an epoxy or paint is important. While some people only park their cars in their garages, others use their garages as a workshop. We base your finish on how you use this area of your home. We take extra time to thoroughly prepare the garage floor for your new coating. We ensure the garage space is empty and remove all traces of debris and dirt. We may need to treat stubborn stains before the painting or epoxy process begins. We can help you choose the best color of paint or epoxy for your space. Once these decisions are made, we're ready to begin your garage floor services to transform your space with style.
How Much Does It Cost to Paint the Garage Floor?
Five Star Paintings of New Port Richey doesn't have set rates. We always provide painting estimates based on the job and the size of the room. Typically, epoxy garage floor coatings, equipment, and materials are about $2 to $5 per square foot. We are always happy to give you a personal estimate.
Do I Need a Professional Painting Team?
While you can apply floor coating yourself, we highly recommend professional garage floor painting services. We are trained to evenly apply your garage floor painting and ensure it's thoroughly covered in paint. We are experienced and knowledgeable about all types of floor coatings.
Why Choose Us for Garage Floor Painting Services?
Five Star Painting of New Port Richey is here for all your painting needs in New Port Richey, Tarpon Springs and surrounding Florida areas. You can count on our team to perform a thorough painting job. We help you choose the best colors and materials that work for your unique project. We are dedicated to being on time and within your budget. We always clean up after our painting projects to make your room as good as new. We want to help transform the look of your space with paint.
Contact Five Star Painting of New Port Richey
A fresh coating on your garage floor offers an additional layer of protection to one of the hardest working floors in your home. When you're ready to upgrade your garage floor, it's important to work with a local company that you can depend on. We have years of experience transforming rooms with paint. We are always here to answer your questions about our painting services. We will come to your home to offer an estimate for our garage floor painting service costs. Contact our team today to get an estimate on your garage floor painting project.