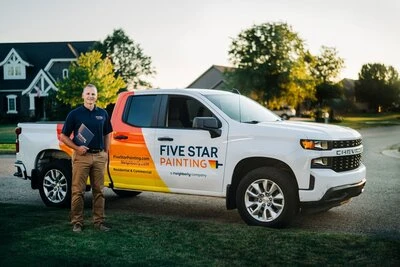 Painting your exteriors or interiors is one thing. But painting your house while delivered a customer-focused, quality-driven service is another.
You can think of us as your local "concierge" residential painters. We're the ones to call if you want a premium experience.
At Five Star Painting of Waukesha:
We warranty our house painting services for two-years.
We get projects done on time and on budget.
We go above and beyond to keep your home clean.
We use the highest-quality paint for a long-lasting finish.
You're welcome to check out our photo gallery to see examples of our residential painting projects.
As homeowners like you, we're truly excited with the potential to serve you by painting your house. At the end of the day, we're painting the "back drop of your life".
This is a high calling, and we're the local residential painters you can trust to get the job done right.
Excited to get started? Schedule your free estimate online or by calling us today. We look forward to serving you!
Our High-Quality Residential Painting Services
We can paint your home inside and out. If you need both exteriors and interiors done, we can help. Or if you need just exteriors or interiors done, we can help, too.
Residential Exterior Painting
When it comes to exterior painting, our driving force is sprucing up your home's appeal.
The residential painting contractors we work with begin at the exterior by painting or staining your garage, deck and fence, shed, porch, exterior doors, exterior trims, and exterior solid stains.
Residential Interior Painting
With the exterior looking all fresh and appealing, our interior painters can then proceed to your home's interior and paint a variety of rooms or surfaces.
By matching you with skilled painting contractors, we will work hard to give you the results that you envisioned. Do you want your bathrooms, kitchen, dining room, living room, hallway, bedrooms, garage or garage floor painted afresh? If you do, we can help.
Contact Five Star Painting of Waukesha today to schedule your free estimate. Or you can schedule easily online.
Our Residential Painting Process Is Simple
We know how precious your time is. As such, we align our projects with your daily schedule to make the process as convenient for you as possible.
Once you reach out to us, we:
Schedule a free estimate,
Help you book our services,
Do the preparations,
Dive into the actual work before
Performing a thorough site cleanup to wrap up the job.
Generally, your estimate will depend on the precise measurement of the area to be painted, the time, and the amount of paint needed.
Professional Painters for Every Project
At Five Star Painting of Waukesha, we ensure that all our residential painting projects reflect the same level of professionalism and excellence.
We take great pride in being able to maintain high standards of delivery for each job that we take on, no matter how big or small the project may be.
From the initial free estimate to the preparation and the actual painting process, our team works hard to make sure that every job is completed with utmost care and precision. We provide our customers with quality services.
When it comes to painting projects, we understand how important it is for each component of the project to be completed efficiently and effectively.
That's why we make sure that every step, from preparation to the final finish, is done correctly so that your project will look its best. We know how important it is for a customer to be satisfied with their painting results and our team works hard to ensure that you get exactly what you expect.
Painting your home can be convenient and hassle-free. Call us or book online today to schedule a free at-home consultation.
Commonly Asked Painting Services Questions
Can house painting help increase my home's value?
Yes, house painting can absolutely help increase your home's value. Not only does giving the exterior of your home a fresh coat of paint improve its curb appeal and make it look beautiful from the outside, but it can also be an effective way to protect your home from harsh weather conditions.
By properly preparing and painting the exterior of your home, you can help prevent peeling, fading and cracking, which can all detract from its value. Additionally, applying a new coat of paint to the interior walls of your home can make it look more inviting and potentially increase its market value as well.
When done properly by experienced painters, painting is one of the most economical ways to quickly improve your home's appearance and increase its value.
Do you offer color consultations for residential interior painting?
Yes, we offer color consultations if you choose to hire us for your project. In the meantime, you're welcome to visit our interior painting page to check out some of the best interior colors.
What type of paint do you use? Do you offer eco-friendly options?
We use premium-quality paints from trusted brands like Sherwin-Williams® and Behr®. Premium-quality paints are more durable, provide better coverage, and offer better color retention.
We also have eco-friendly paint options available. We use paints with low volatile organic compounds (VOCs) which minimize harmful emissions. promote a healthier indoor environment.
Trust us to ensure both the longevity of your paint job and the well-being of your family and the environment.
Ready to schedule a free painting estimate for your home? Call our team or book an appointment online!