Local Painting Contractors Near You!
Our local Ridgewood, NJ painting contractors are experienced in providing exceptional residential and commercial painting services. When you choose Five Star Painting of Bergen County, you benefit from our expertise, attention to detail, and local knowledge. Our skilled painters pay meticulous attention to surface preparation, paint selection, and application techniques to ensure a smooth and long-lasting finish.
Here are the key benefits of choosing our professional house painting services:
Enhanced Home Value
Improved Curb Appeal
Protection Against Elements
Expertise and Skill
Attention To Detail
We understand the importance of enhancing your home's value and curb appeal through professional painting. With our high-quality paints and coatings, we can protect your home from weather and natural elements while delivering flawless results. As a local painting company, we understand the unique requirements and architectural styles prevalent in Ridgewood and the surrounding areas, allowing us to provide tailored solutions that suit your specific needs and preferences.
Contact Five Star Painting of Bergen County today to schedule a consultation and experience the benefits of our exceptional painting services.
Why Choose Five Star Painting of Bergen County?
We're owned and operated by Christian Cruz. Christian loves serving the local community by delivering customer-focused, quality-driven™ painting services. And he does so while adhering to our R.I.C.H. code of values – Respect, Integrity, Customer-focus, and Having fun.
Why choose our painters in Ridgewood? A few reasons include:
Our On-Time, On-Budget Commitment. The price we quote is the price you pay. No hidden or surprise fees. And when we communicate a completion timeline, we stick to it.
Our Project Managers. One of the things that makes us unique is our Project Managers. If you approve our estimate, we'll assign a dedicated Project Manager to your project. They'll stay in close contact with you and ensure the painters deliver timely and high-quality work.
Our Reputation. We're backed by 150+ reviews and have served many customers in the area. We're highly rated for our responsiveness, professionalism, and high-value service.
Our Professional Expertise. As experts in the industry, we know painting your home or business is more than just getting paint and painting away. From prep to sourcing the right paint, our expertise can help deliver a paint job that amazes and lasts for years.
Searching for customer-focused, quality-driven™ Ridgewood painters? Schedule your free estimate online or by giving us a call today.
Our Painting Services in Ridgewood
At Five Star Painting of Bergen County – we have the experience, tools, and skills to paint your home or business alike. And we do so while suiting your exact needs.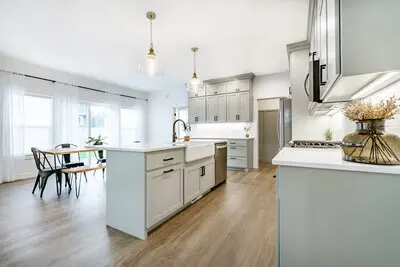 Our Residential Painting Services
Did you just move to Ridgewood and need someone to paint your house? If so – welcome, neighbor! We hope you've had an easy time getting settled in. Whether you need interior or exterior painting services, we can be there to help.
Or perhaps you're a long-time resident and need something "new". In that case, count on us to be there to help you breathe new life into your home.
Our residential painting services include:
Interior Painting
Exterior Painting
Cabinet Painting
Cabinet Refinishing
Deck and Fence Painting
Carpentry Services
Pressure Washing
Garage Floor Coating and Sealing
Our Commercial Painting Services
Are you a local business owner and need to enhance or re-imagine your brand? As business owners like you – we'll know how to help make a great impression on our community through interior or exterior paint.
On the commercial side, we can paint interiors and exteriors for: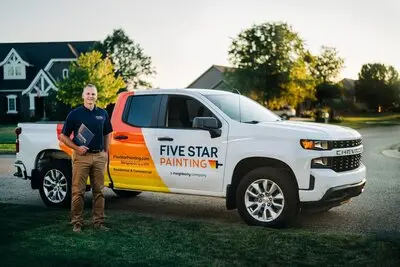 Medical Facilities
Hospitality Buildings
Churches
Education Centers
Property Management
Gyms and Fitness Centers
Industrial
We're backed with 20+ years of experience in the painting industry.
We'll know which paint you need for your project, the exact prep work you need, and all the proper paint application techniques. All of this will help your project last and amaze for years to come.
When it comes to painting your home or business, we've got you covered! Give us a call or schedule your free estimate online today.
I'm Ready to Get Started – What Happens Next?
First things first – go ahead and schedule your first appointment.
We'll show up to the appointment on time, in our branded, company vehicle, and in a professional uniform.
Below is what you can expect next:
Your Free Estimate Appointment. During the first appointment, our owner Christian will meet with you in person and go over your project in full. He'll provide exact measurements for what you need and answer any questions you may have. We'll prepare the estimate and send that to you shortly thereafter.
Schedule the Project. From there, if you approve the estimate, we'll schedule the work for when it's most convenient for you.
Handle the Prep Work. Before we even open the cans of paint, we'll perform thorough prep work. This may include smoothing and sanding your surfaces, filling holes, removing failed paint, and repairing minor surface flaws. We do offer carpentry services, so we can handle these types of repairs for you.
Prime and Paint. Once your surfaces are ready, we'll apply the necessary coats of primer. Once those have dried, we'll finally open the cans of paint and…paint away! This is the exciting part when your home or business is completely transformed.
Perform A Walk-Through. When we're done, Christian or another team member will perform a walk-through inspection with you to ensure you're completely satisfied with our work.
Leave You with a Warranty. Finally – the cherry on top – we'll leave you with a two-year warranty for your peace of mind.
When it comes to customer-focused, quality-driven™ painting services in Ridgewood, you can trust us. Call us or schedule your free estimate online today.