You want your home to be one of the highlights of your neighborhood. Five Star Painting of Bradenton appreciates this aspiration and wants to help you achieve it. Often, the best choices for your home exterior are made within the context of the surrounding area.
We recommend making choices based on the style of home, such as:
Ranch
Colonial
Victorian
Cape Cod
Craftsman
Contemporary
Our Bradenton exterior home painters understand that no two homes are the same. Our approach is never generic but rather personalized to a particular home and other aspects of its property.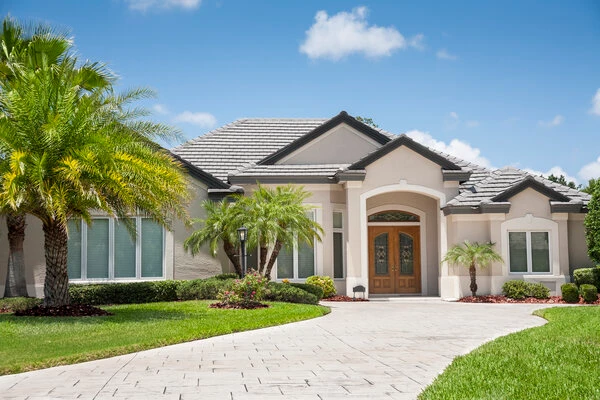 What we should prepare and finish depends very much on the specifics, these aspects often include:
Siding
Dormers
Corner Boards
Porches and Railings
Fascias and Frieze Boards
Window Trim and Shutters
Doors and Other Entrances
Your property as a whole is essential to the curb appeal of your house. You may have satellite structures on your property that require repainting, too. It often makes aesthetic sense to have these features either complement or contrast the main structure. A playhouse, for instance, can mirror a home while a barn can provide a distinction.
Some of the satellite structures we often work on include:
Sheds
Decks
Fences
Gazebos
Mailboxes
Well Houses
To book your free house painting estimate, give us a call. Or, book online! We look forward to the opportunity to serve you!
Exterior House Painting | FAQs
When Is The Best Time Of Year To Paint The Exterior?
In Bradenton, FL, you can technically have your house exterior painted year-round. Unlike other areas in the country, we don't suffer from frigid cold temperatures! This means we can even paint your house in the winter!
Your house can be painted year-round, but it still does depend on the weather. Summers can get hot and humid, and we certainly get our fair share of rain and wind. Whenever you need your exteriors painted, just give us a call! We'll be happy to help schedule your project around the weather.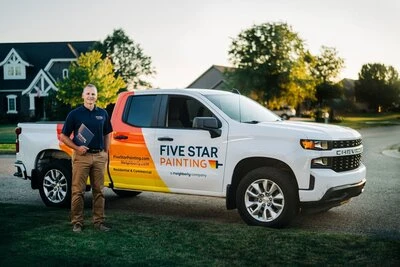 Professional Exterior Painters Near Me
At Five Star Painting of Bradenton, we offer customer-focused and quality-driven exterior painting services. From the initial estimate to the final walk-through, we deliver professional, courteous service.
At Our Core We're Customer-Focused and Quality-Driven - The best reason to choose us is that we are passionate about our trade! And we take great pride in delivering exceptional craftsmanship.
Dedicated to Great Customer Experiences - Expect professional, clean painters who are customer-oriented and will respect you and your property throughout the project. For example, our estimators show up at your home in uniform - not covered in paint! And if they need to go into your home, they'll put their shoe covers on first.
We Offer a Warranty! - We also warranty our exterior painting services for two years. With us, you can trust that your job will be done right!
Your house painting project will be managed by one of our dedicated project managers. And we work around your schedule, not ours! Count on us to paint your home in such a way that our workmanship amazes and lasts for years.
Whatever unique features make up your home, we can devise a plan to bring them all together. Call Five Star Painting of Bradenton to discuss your ideas and learn more about your options.