It's March so let's talk about…Oh, I don't know…GREEN?
Kelly Green specifically. Kelly Green is named for the stunning and verdant landscapes of Ireland and for the well-known Irish family name of Kelly. Green makes us think of nature, renewal, growth, and flourishing. (Also envy, poison, and illness; but let's not be so dreary now).
Being that darling Miss Kelly is such a strong green, she can be quite dramatic on her own. If you want to use this color in your décor, it is suggested to use sparingly. Consider it to highlight favorite details in your home like a built-in bookshelf or modern architectural lighting; use on an accent wall or add some curb appeal by using it on your front door.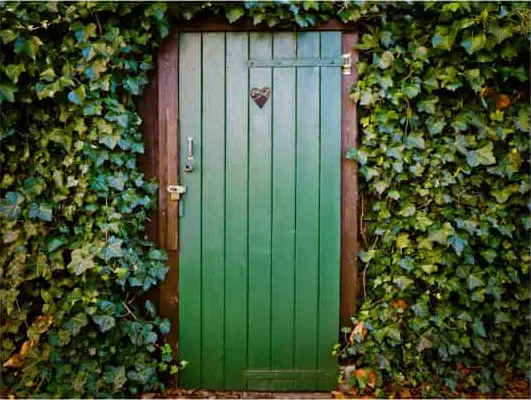 If you're feeling the luck of the Irish, a few options to consider from your local paint stores are:
Sherwin Williams, Lucky Green 6926
Benjamin Moore, Kelly Green, 2037-30
Behr, Luck of the Irish, P380-7
(There are quite a few other choices as well…I just liked the celebratory names of these!)
Let's talk coordinating colors!
When pairing with white try something that isn't too pure or bright white. Bright whites may reflect the stronger colors next to them. Your bright white walls may just "glow green" next to our girl Kelly. Try a few off-whites like:
Sherwin Williams, First Star 7646, A white that leans toward a blue/gray.
Benjamin Moore, White Rock 918, A white with a creamier-yellow base.
Behr, Canyon Wind BL-W12, another blue/gray white.
Pops of color that work well with a pure green would be Navy Blue, Yellows, Gold-Yellow, Yellow-Green, and even Purple. Of course, we all know that red and green go well together, just tread carefully here. Unless you want your home full of Christmas cheer year-round, maybe consider a more muted red for that combo.
Kelly will also work quite nicely with other shades of green. Think of nature and how beautifully varying shades of green come together! In addition to lush green landscape, Ireland is also known for its golden yellow "furze" or "gorse" blooms. These yellow flowers thrive year-round and adds brilliance to those green rolling hills. Imagine a living room with those exuberant greens and then add vivid yellow accents!
Technical Jargon: The LRV (Light Reflectance Value) for Kelly Green is usually around 15-30 depending on the paint you purchase. This means that this is a relatively medium-dark color and will reflect some but not much light. In a dark room with minimal natural or artificial light it may look significantly darker than you are wanting. A darker color needs a lot of light to really live up to its full potential!
Keep in mind that bold and bright color schemes can become exhausting after a time. Be prepared to want to change or update in the future. As with any paint color change, take your time in the decision process. Get large samples and leave them up for at least 24 hours to get a better idea of how that color will work in your room under various lighting conditions. Lighting makes all the difference!
Say you love, LOVE, LOVE green and want to give it a go but you are feeling a wee bit nervous about diving into all that lushness right away. Start simple! Try a lovely accent chair, an entry table painted in one of the above recommended greens, or even just a few luxurious velvet green throw pillows!
Colorfully Yours,
Trina
Trina Rogers, Co-Owner of Five Star Painting of Temple