Let Five Star Painting of Boston North Shore make your home look its best with a fresh, new color scheme! Here are some ideas that could help enhance your home's appeal:
Introduce a new palette for the shutters and front door.
Correct a shabby, weather-beaten appearance with chipped, peeling paint by using new paint.
Add drama to your home! We can do this for you by deepening the contrast between the colors for your entry door, siding, and trim.
Did you know exterior painting is a cost-effective way to enhance your curb appeal? This can help you live better in your home and help sell your home if you plan to move. At Five Star Painting of Boston North Shore, we're happy to discuss these painting ideas or any others that you might have.
Book your free estimate by calling us or by reaching out to us online. We look forward to meeting you!
Our Exterior House Painting Services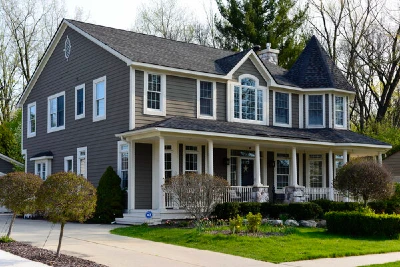 Our bread-and-butter exterior home painting services are painting full house exteriors. This includes:
Painting siding,
Painting trim, and
Painting railings
Our Other Exterior Painting Services
Do you want to give your garage a whole new persona? How about camouflaging your shed to make it look like it's an organic part of your landscape? Paint can make your outbuildings stand out or fit in, whichever outcome you prefer. The following are some of the types of exterior painting projects we can help you with. Let us:
Paint or stain your deck to beautify it and increase its durability
Paint the garage in colors that complement your home
Create a playful new color scheme for your child's playhouse or treehouse
Rejuvenate a faded barn
Would like to try any of these fantastic painting ideas on your North Shore property? We'd be happy to give you a free estimate.
What is Included in Exterior House Painting?
At Five Star Painting of Boston North Shore, we provide way more services than simply painting your exteriors. Our exterior painting services are all-inclusive. Your exterior paint job would include:
Precise Measurements and Color Consultations
We use advanced technology for taking measurements of your home.
Need help choosing the best colors for your home? We can help you pick out the best ones!
Thorough Prep Work
Prep work is essential to a long-lasting and high-quality exterior paint job. Some of the prep work includes:
Repairing rotted wood
Sanding
Caulking
Priming
Removing failed paint
Pressure washing your exteriors
Laying down drop cloths
Proper Paint Application Techniques
Once we complete the prep, we'll paint your home using the correct paint application techniques.
A Two-year Warranty
For your peace of mind, we warranty our exterior house painting services for two years. With Five Star Painting of Boston North Shore, the job isn't done until it's done right!
Searching for quality-driven Danvers exterior house painters? Count on us! Book your free estimate by dialing the phone or by reaching out online.
Why Should I Repaint My Home?
There are many reasons why you should repaint your house. Below are a couple of the most common reasons homeowners re-paint their home's exterior:
Protects Your Home Against Nature
Repainting your house will help preserve your house's exterior surfaces. You see, paint is the defensive layer that protects your house from nature. Chipped, cracked, or peeling paint is more than just unsightly. These are signs of paint failure. Water from rain and snow, for example, can get into your exterior siding and damage parts of your house.
Keeping your house maintained is critical in Danvers and the entire North Shore. We can get quite a bit of rain and snow! If your house is maintained with a fresh coat of paint every five to ten years or so, you'll be in good shape!
Increases Your Home's Value
Are you planning to sell your home? Giving it a fresh coat of paint is one of the easiest and most cost-effective ways to increase its value! First impressions are incredibly important. Especially when yours is listed on various listing sites. One of the first things most buyers will see is your home's exterior.
What would pique someone's interest more? An outdated house with cracked paint or a gorgeous house that was recently painted? If you're selling, help improve your house's first impression by repainting it.
Additionally, if you've had your house painted, that's one less project your buyer has to deal with. Making the move-in process easier for your potential buyers can help your home sell.
Ready to repaint your house? Contact our Danvers exterior house painters to set up your free estimate!
Why Choose Five Star Painting of Boston North Shore?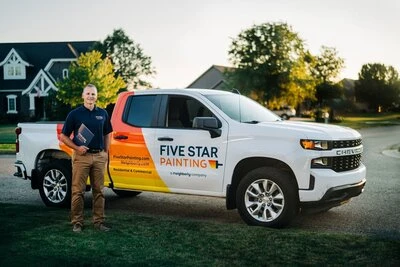 We're customer-focused and quality-driven. This is at the core of everything we do. We aren't your average exterior home painters!
For example - our estimators show up at your home on time and in uniform. They aren't covered in paint! They'll also wear shoe covers inside your home to protect your floors. We're professional from beginning to end.
You might be tempted to pick up some cans of paint, brushes, and start painting away. Play it safe by hiring our Danvers exterior house painters! You can trust us that we'll complete everything professionally, on time, and on budget. This includes preparation, the actual painting, and clean-up.
At Five Star Painting of Boston North Shore, we provide customer-focused and quality-driven exterior painting services. We've also built a great rapport with our past clients; visit our testimonials page to see why our clients love us! You can trust us to take your next exterior house painting project to the five-star level!
Schedule your free estimate online or give us a call. We're excited to meet you and help give you the home of your dreams!