Are you aware of the benefits of professional interior painting? When professionally done, interior painting can improve your home's value and it's a cost-effective way of doing so! Interior painting is also necessary to ensure your walls and ceilings are protected from moisture. Thus interior painting is especially needed in moisture-prone rooms like bathrooms and kitchens.
Whether it's to change your home's mood or get it ready for selling, our local interior painters can help! Visit our contact us page to book your free estimate!
Which Areas of Your Home Need Interior Painting?
We have helped homeowners in Danvers and throughout the North Shore by painting virtually every room in their homes. We can do the same for you.
At Five Star Painting of Boston North Shore, we can paint:
Mudrooms and foyers
Laundry rooms
Kitchens and pantries
Bathrooms
Closets
Basements
New additions
Family rooms
Living rooms
Basements and game rooms
Hallways
Garages and garage floors
Revitalize Your Home's Mood with Professional Interior Painting in Danvers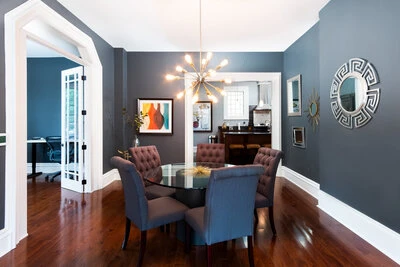 A room's color scheme is highly influential in determining the mood of the space. Would you prefer a bright and cheerful mood? A relaxing mood? An elegant, luxurious mood? A playful mood? The right color can help create exactly the look you're going for in your home.
White can create an airy, expansive and uncluttered look that is simple and elegant. A mix of primary colors can look cheerful and optimistic.
Blues can be styled in numerous ways, but they often look subtle and moody. They can also look restful and serene.
Gray can pair well with any other color and take on any mood you want to convey. Orange is energetic and kinetic. Black can appear sultry and sophisticated.
Let's work together to decide on a color scheme you will love. We would be happy to discuss with you the colors you love and the sort of ambiance you want to cultivate in your personal space.
You can count on our quality-driven and customer-focused interior painters near you! Reach out to us online or give us a call to book your free estimate.
Why Choose Five Star Painting of Boston North Shore?
At our core, we are customer-focused and quality-driven. We strive to offer a premium level of professionalism unmatched by other interior painting companies.
Professional Interior Painting Estimators!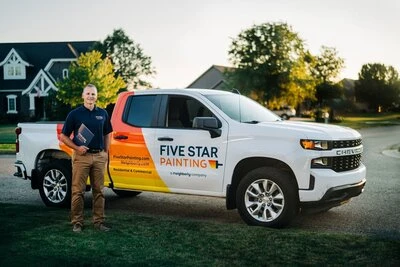 Our estimators, for example, don't show up at your house in white, paint-stained overalls. On the contrary, our estimators show up in uniform. They'll even put booties on before entering your home! We want to keep your floors clean!
Need Help Choosing Paint Colors? We Can Help!
We're also happy to help you choose the right colors for your project. With countless colors to choose from, we totally understand how difficult it can be to choose the best ones. Frankly, you may not even know where to start! Let us help you pick the ones that best reflect you as the homeowners.
We Have a Great Reputation!
We're also backed by a great reputation. Our customers have kindly left reviews for us. Check out our testimonials page to see why they love our painting services!
Essentially, your interior house painting project wouldn't be just another "job" for us. We're the interior painters in Danvers you can count on to help you fall back in love with your home.
Count on us for professional interior painters! Book your free estimate by contacting us online. We look forward to serving you!
Interior Painting | Frequently Asked Questions
Should we hire professional painters for our interior painting projects?
Yes, if you want your rooms to look pristine and have a long-lasting paint job, you'd benefit from hiring professional painters.
In one instance, homeowners chose to paint their own rooms but:
The paint wasn't even in areas,
The paint in their bathroom was smearing, and
The walls weren't repaired before new paint was applied.
In cases like this, interior paint jobs won't last as long and the quality isn't terrific.
At Five Star Painting of Boston North Shore, we are customer-focused and quality-driven from start to finish. We will:
Ensure all your surfaces are well-prepared,
Use high-quality paints, and
Use the proper techniques to ensure you're left with a gorgeous and long-lasting paint job.
How Often Should You Paint Bedrooms?
Bedroom painting isn't a task homeowners think about often, but repainting the walls of your bedroom on a semi-regular basis can breathe new life into your living space. Experts recommend repainting every 3-5 years, or as necessary in case of any cracks or stains on the walls. If you are looking for a professional job to spruce up your bedroom décor, it's best to contact our Danvers, MA interior painters as they are trained and experienced with wall repaints. Keep in mind that repainting isn't something that needs to be done frequently, but can give an enormous boost to both the look of your bedroom and its energy level.
What colors should we choose if we plan to have our interiors painted before we move?
We'd recommend going with some neutral colors, like greys and whites. Unlike bold colors, neutrals can appeal to more potential buyers. Neutral colors can also help them to better visualize how their furniture will look in your home.
Do you need one room repainted or a new look for the whole house? Call our Danvers interior painters today. We look forward to discussing your project with you.