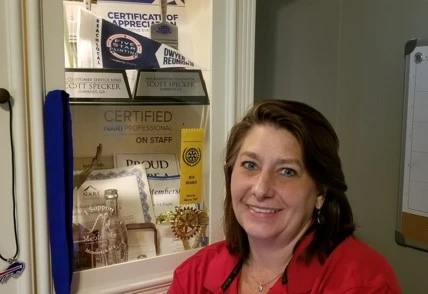 Five Star Painting of Cumming is pleased to announce that Kristen Vance, CRPM has recently achieved the prestigious Certified Remodeling Project Manager status.
A Certified Remodeling Project Manager (CRPM) designation professionalizes the role of managing a remodeling project. A CRPM has oversight of every aspect of the remodeling project—project planning, communications, project cost management, quality assurance, risk management, and recordkeeping. Those with this designation will be taught to work toward mastering these project components in order to drive end-customer satisfaction and profitability of remodeling projects.
"I know from my own personal experience in hiring contractors, I have found that certifications really make the difference. The knowledge that a trained certified professional gives you, really helps you make a great decision in not only hiring but deciding details of the job. This is ultimately best for the house and the consumer." Said, Vance.
Her manager Scott said, "We are very proud of Kristen and her commitment to our company and commitment to our customers. She has a proven track record of project management skills that she is now bringing to our new customers as an estimator. Having a CRPM on staff will enable us to ensure the highest quality of service by setting, and then hopefully exceeding customer expectations "
The first step to attaining the Certified Remodeling Project Manager certification is to complete a qualification form, which outlines an individual's background of experience and education in remodeling. Eligibility requirements include working full time in the remodeling field for at least two years and passing a comprehensive assessment exam. Preparation for this exam takes up to 8 weeks of intensive study, offered through NARI's study group programs, to prepare them for the written examination.
NARI's CRPM program measures skill and expertise valued not only by other professional remodelers but by consumers as well. Highly respected by those who have achieved the designation, the CRPM program identifies professional remodelers who have undergone comprehensive review and testing in areas of business management, ethical conduct, and technical skills. In addition, they must also adhere to NARI's strict Standards of Practice and Code of Ethics.
About Five Star Painting: Five Star Painting of Cumming & Alpharetta is locally owned and operated by the Specker Family. The team at our Five Star Painting has spent countless hours studying the painting industry. We are constantly learning about new technologies and processes to enhance our painting services. This leads to excellent results and means our workers will always "do the right thing." Our owner, Scott Specker, loves running a business that can provide high-quality customer service. He is proud to deliver excellent painting services to Cumming, Alpharetta and the surrounding areas. 770-904-9971 x710
About NARI:The National Association of the Remodeling Industry (NARI) is the only trade association dedicated solely to the remodeling industry. The Association, which represents member companies nationwide—comprised of 63,000 remodeling contractors— is "The Voice of the Remodeling Industry."™ To learn more about membership, visit www.RemodelToday.com or contact national headquarters, based in Des Plaines, Ill., at (847) 298-9200.