For example, our estimators actually show up on time and in uniform. And for your peace of mind, we warranty our services for two years.
Want to see examples of our work? Check you our photo gallery! You can also read our reviews to see why our clients love our services.
Get started today by booking your free estimate. You can do so by calling or by contacting our team online. We look forward to serving you!
Our Exterior Home Painting Services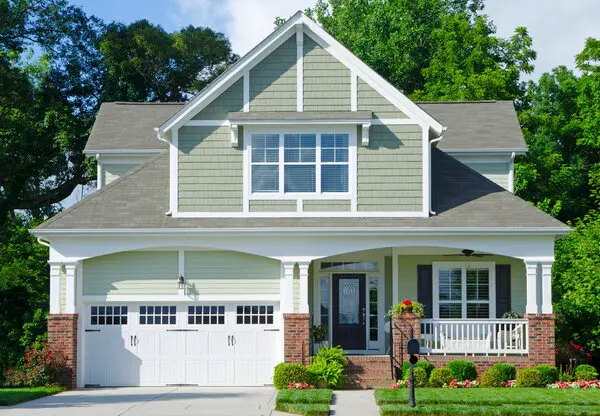 No matter what your home is made of, we can probably paint it. Our experienced exteriors painters in Cumming can paint all kinds of exterior materials!
Some of the materials we can paint include:
Brick
Wood
Paneling
Stucco
Concrete
Siding
To maximize curb appeal, there's more than just focusing on the "big picture". You also need to consider the smaller details. This might include selecting the right stain for your fence or choosing a new shade of trim paint
Our exterior residential services also include detail work, such as:
Roof painting
Exterior door painting
Exterior trim painting
Fence painting/staining
Can You Paint Our Other Exterior Structures?
Yes, we sure can! When people decide to revamp their home's exterior with paint, they often focus on the siding. At Five Star Painting of Cumming, however, we can provide a truly comprehensive exterior painting job.
The exterior house painters we work with offer:
Pool painting
Garage painting
Porch painting
Barn painting
Outbuilding painting
Children's playhouse painting
What Areas Do You Serve?
Our Cumming exterior painting contractors proudly serve:
Gainesville,
Flowery Brand,
Lawrenceville,
Suwanee, and
Buford.
If you choose us for your exterior painting needs, you'll be impressed by the quality of our work and our excellent customer service.
Do you need your porch painted or a total exterior makeover? We can help! Call us or contact us online to schedule your free estimate!
What Are the Benefits of Exterior House Painting?
House Painting Enhances Your Home's Curb Appeal!
Your home only gets one chance to make a good first impression. Do you want to boost your home's curb appeal? A new coat of paint is an easy, budget-friendly solution. Five Star Painting of Cumming can take care of all the little details, ranging from trim touch-ups to full exteriors.
House Painting Protects Your Home
Yep, you read that correctly. Paint protects your home! It's very common to only think about the aesthetic benefits new paint brings. But in reality, paint protects your home from rain, hail, and other natural elements. Rain especially is no stranger to Cumming, GA!
Chipped, cracked, and peeling paint exposes your siding and trim to these harmful elements. In the end, they can damage your home.
Is your home ready for the next rainstorm? Book your free estimate today by dialing. Or get in touch with us by filling out a brief form!
The Benefits of Our Three-Step System
When we paint home exteriors in Cumming and the surrounding areas, we abide by a three-step system. This helps optimize your experience and the finished product.
Step 1: Prep
Did you know thorough prep work is essential to a long-lasting and high-quality paint job? New paint won't bond properly to surfaces that contain dirt or chipped paint. Our exterior home painters in Cumming handle all the essential prep work!
Some of the prep work may include:
Getting rid of dirt and debris
Repairing exterior damage
Removing failed paint
Cleaning all surfaces
We do not cut any corners in the prep process!
Step 2: Prime
To make your new paint job last, a high-quality primer is essential. We prepare every exterior surface with primers from top brands like Sherwin Williams® and Behr®.
Step 3: Paint
Once the surface is ready, we start painting. Depending on the surface and paint, several coats may be needed.
But even when the new paint is applied, we aren't done! We take it one step further by:
Cleaning everything up, and
Performing a walk-through with you to ensure you're satisfied.
Why Choose Five Star Painting of Cumming?
Homeowners in the Cumming area can't go wrong when they choose Five Star Painting. We'll guide you through every step of the process, from the pre-paint repairs to the final coats of paint.
Ready to book your free estimate? Call us or reach out to us online. We can't wait to enliven your home!