Preventing Wood Rot On Your House In North Atlanta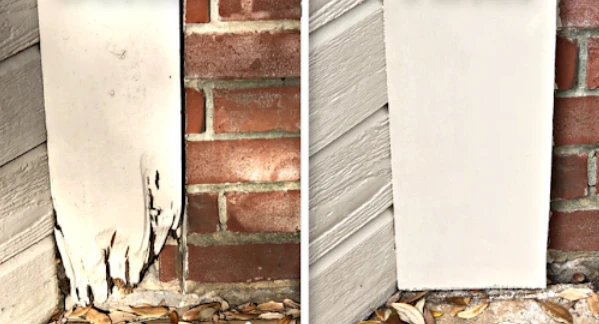 As we enter the summer exterior painting season we continue to see wood rot on almost every home in North Atlanta. Some neighborhoods are worse than others but overall it is quite normal. Wood rot can bring much angst to homeowners since they think their house is rotting or poorly made. The reality is that there are many factors. First, don't freak out. Your house was not likely poorly built. It is more of a maintenance issue. I will speak about maintenance more later.


Wood rot comes in many forms. The most frequent we see is trim boards around windows and the industry term we use is Brick moldings and casings. These trim boards will appear to be wavy or actually have a dark rotted wood peak through. The rot can start at the bottom of the board or at the seam. There are usually 3 boards around a window. If the bottom of the side boards are rotted than you will likely have a rotted window sill or nose as well.
Another common issue is wood rot behind gutters. Gutters are nailed or screwed into boards (or fascia) boards on the horizontal parts of your home. Those boards can rot and gutters can start to pull back from the house as the bolts get loosened. These trim boards also appear on chimneys going vertical up the sides. Again look for an appearance of wavy wood or black spots on the boards.
Fascia (or trim) boards also get rotted when they act like a belt around a house. While it looks pretty the wood rot can collect on the boards or at the seams. This can lead to rot forming on the drip cap as well. It is a small 1" piece of wood that goes behind the boards and is meant to reflect the water off of the house.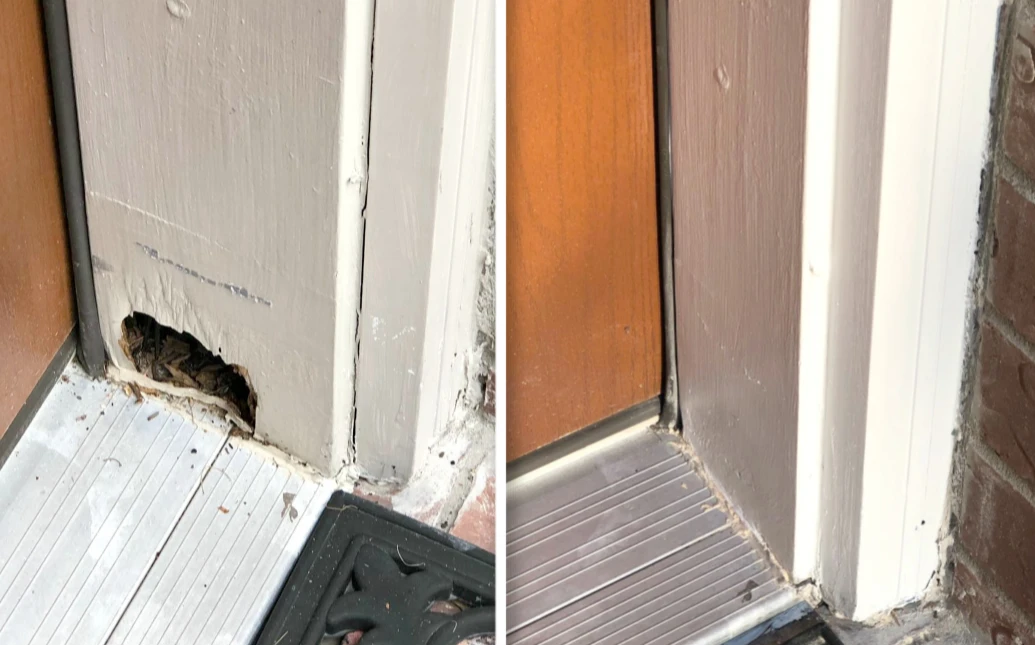 Going around a house we will see rotted door jambs as well. Most of the times these can be repaired with a product called Bondo. It is a hardening material that is used on cars. It is more economical than replacing the entire board. Most skilled painters can use this product to prevent the replacement of entire door jambs which can be costly.
We also see rotten soffits. This is the section behind your gutter that usually has a vent on it. (soffit most often refers to the material forming a ceiling from the top of an exterior house wall to the outer edge of the roof, i.e., bridging the gap between a home's siding and the roofline, otherwise known as the eaves) It is designed specifically to let your attic and house breath. Occasionally those vents and the wood surrounding them will rot with too much water sitting on them. There are many other areas of rot around a house but I don't want to bore you with all of the areas.
My goal is to make you aware of what can happen but more importantly how to prevent wood rot. So here are a few ideas to do on your home to battle wood rot. Remember you are battling water flow. Too much water is the problem!
Get your gutters cleaned professionally every year. Overflowing gutters are one of the main causes of wood rot. Next time it rains grab an umbrella and walk around your house and look up at your gutters. Is water overflowing? If so, call someone.
If you get a roof installed make sure the shingles are NOT tucked in behind your gutters. This is important as that water needs to flow evenly OFF of your house. Also, a lot of residue can fall into your gutters after a new roof so get them cleaned right after.
Get a house wash every 12-18 months. Thinking of it this way….will your car have a pretty color if you only clean it every 5 years? A good wash will remove mildew, cobwebs, etc.
Make sure your painter fills seams with good caulking to prevent water from entering behind wood. Sitting water turns into rot. Most people don't realize how powerful water is. Ever hear of the Grand Canyon? If water wants to get through a space, it will.
Cut back your bushes to at least 3' to 4' from the house. Sun needs to hit your house and dry any water. Unfortunately, if a tree is over your house it really needs to be cut down. It can also act as a highway for animals. I know that might not be possible, but your house is worth more than that pretty tree or a playground for animals.
These are just some tips for you to keep your home lasting a long time and we hope you find it useful for keeping your home worth its value in North Atlanta in cities like Cumming, Suwanee, Alpharetta, Roswell, Gainesville, Buford, Lawrenceville, Johns Creek, and Milton.