A wood fence provides privacy, security, and a great focal point for your property. Routine wood fence maintenance is important to maintain the aesthetic of the fence and the life of the wood.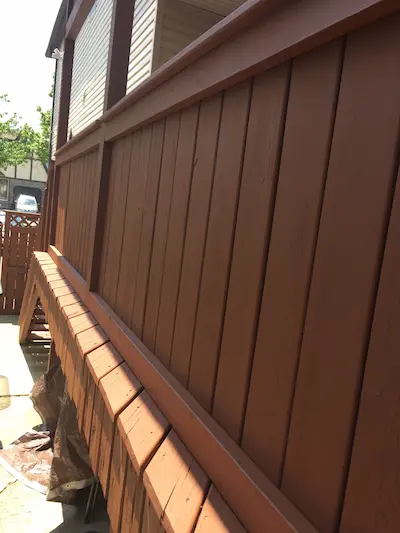 A fence should be stained every two to three years to preserve the look and function of the fence. However, the maintenance interval will depend on several factors.
Learn the best wood fence maintenance routine for your fence below from the experts at Five Star Painting.
Wood Fence Maintenance
A wood fence, if properly cared for, should last for at least a decade. To take care of your wood fence, prolong the life of the wood, and keep it looking great:
Always replace rotting boards as soon as possible.
Fence posts and any boards that contact the ground should be treated wood or wood that is otherwise rot-resistant.
Stain or paint a fence as soon as it begins to show signs of wear.
Never overlook the prep steps when applying wood treatment. Preparing the wood properly will significantly affect the outcome and longevity of the wood treatment.
A crooked fence post indicates poor footing, erosion issues, or rotting wood. Always investigate when things don't look right.
Hammer any nails that work themselves out and tighten or replace any loose or missing screws.
When Should I Stain My Fence?
A wood fence should be treated every two to three years with paint or stain. The experts at Five Star Painting recommend stain due to its durability on wood exposed to the elements. Factors that affect this maintenance interval, include:
The fence is south-facing and exposed to maximum UV light
There is mold or mildew on the boards
Boards are rotting or damaged
The type of wood
Softwoods such as pine will require more frequent maintenance than fences made from hardwoods like oak.
Naturally rot-resistant wood such as black locust or cedar can go longer between treatments. Just be sure the wood is the heartwood, and not the sapwood, which is more likely to rot.
Wood Fence Staining Tips
New fences should not be stained right away. The type of wood used in your new fence will influence when, approximately, you should stain it. Wet wood won't allow the stain to properly penetrate the wood grain and protect the wood. A good rule of thumb is to pour a few drops of water on the wood, if it beads up, the wood is still too wet. If the water soaks into the wood, it's ready for stain.
For kiln-dried lumber, which is what most hardware stores sell, the wood should dry out for one to two months before applying wood treatment.
For treated lumber, allow the wood to dry out for six months before applying any wood treatment.
For green lumber, which is freshly cut wood, the wood should dry one year for every inch of thickness.
Use these tips as general guidelines. The wood you buy may not be very wet or you might live in an arid climate where it'll dry out quickly compared to a moist, humid climate.
After the wood cures and before applying paint or stain, clean the wood of dirt and dust. For that new-fence look, lightly sand or power wash the wood to remove the grey color and let it dry for one day before proceeding.
Professional Wood Fence Maintenance
If you'd rather spend your weekend doing the things you love, Five Star Painting can help. Although staining a fence is an easy DIY project, it can be time-consuming, quickly swallowing up your precious free time. Rushing through the project will only lead to a sloppy job, or worse, another staining project in just a few months.
If you let the experts at Five Star Painting take care of your fence woes, you can rest assured that we'll do a great job and clean up as if we were never there.