Exterior paint is an excellent way to improve your curb appeal and transform the look of your home.
Five Star Painting of Oak Lawn provides professional residential exterior painting services in Oak Lawn, IL. Our service professionals can help you choose paint colors that complement the style of your home. Our high-quality Sherwin Williams and Behr paints are lasting and beautiful. We love giving homes a new look and feel with a fresh coat of paint. Contact us today to request an estimate on our home painting services.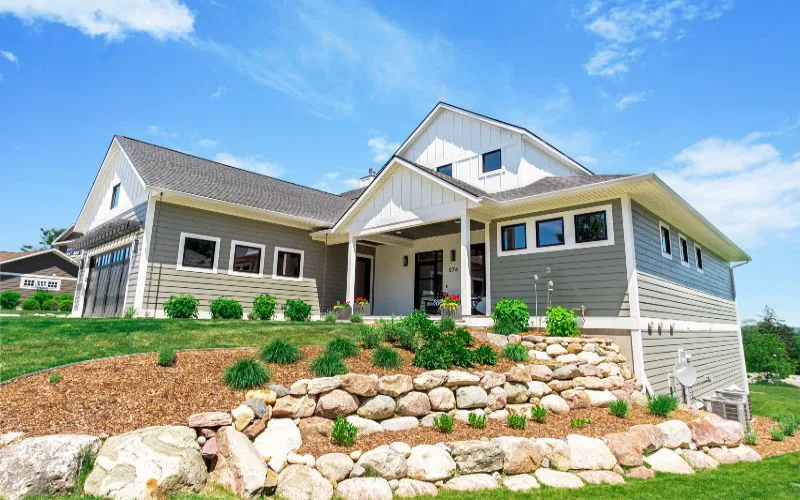 We Provide Services for All Types of Exteriors
We can paint any type of home exterior, including vinyl, wood, or brick. Our home service professionals work quickly and efficiently to ensure your fresh coat of paint is perfectly applied. Some of the many home exteriors we paint include the following:
Porches
Doors
Shutters
Columns
Windows 
Bay windows 
Rooflines
Railings
Our Exterior House Painting Process
Five Star Painting of Oak Lawn takes our time to ensure every part of your exterior is covered with paint. Our professional exterior painting process includes the following:
We walk around your home and offer an estimate for our exterior painting services.
Our painting service professional starts by power washing your surfaces to eliminate dirt, mold, algae, and debris.
We remove any damaged surface area and replace it with new wood or PVC.
Our team removes all damaged caulk areas and replaces them to help prevent mold and mildew.
We paint all surfaces using high-quality paint.
We thoroughly clean the area.
Our service professionals finish by inspecting our work to ensure there are no issues.
What is the Lifespan of Exterior Paint?
The exterior of your home typically withstands weather elements and debris during its life. Most home exterior paint projects last up to eight years. We can come to your home to inspect your paint to determine when it is best to apply a new coat of paint.
Exterior Painting Service Benefits
We believe in the power of paint. Some of the most significant benefits of exterior painting services
include the following:
Boosts Property Value – A fresh coat of paint helps boost your curb appeal and property value.
Protection – Our high-quality exterior paint helps add an additional layer of protection from insects and weather.
Prevents Stains – We use paint that is highly resistant to fading and helps repel stains.
Keeps Moisture Out – A fresh layer of paint helps prevent moisture damage and wood rot.
Gorgeous Look – A fresh coat of paint ensures your home looks and feels its best.
What Does an Exterior Paint Service Cost?
We will inspect the work area to determine the cost of your exterior painting service. We consider the scope of the job, the type of paint, and the size of the exterior space when we determine the total cost. Our skilled painting team offers upfront estimates for our painting services.
The Importance of Hiring Professional Painters
We understand many homeowners can paint their own homes. While anyone can effectively complete a small painting project, hiring a professional for larger projects is essential. Our service professionals are trained to handle drywall repairs, wood rot, texturing, and high ceilings. We are experts in applying paint to the exterior of your home. 
Why Choose Five Star Painting on Oak Lawn? 
Five Star Painting of Oak Lawn provides high-quality painting services in Oak Lawn, Alsip, and Evergreen Park, IL. We can paint any area of your home with a fresh and lovely look. We paint with high-quality paints and products to ensure your projects last many years. The exterior of your home should always look and feel fresh with a beautiful coat of paint. We are here to help you choose the best colors for the exterior of your home. Our team will gladly offer an estimate on our exterior paint services. 
Contact Five Star Painting of Oak Lawn
When you're ready for a new look or have peeling paint, reach out to our painting team. Five Star Painting of Oak Lawn has many years of experience applying fresh coats of paint to the exterior of homes. We can do it all, from touch-ups to trim work. Our team is here for all your painting needs. Contact us today to get an estimate on our residential exterior painting services.