So Many Choices - Growing Up With Color
When a child in on the way, one of the many exciting joys for the parents is getting the nursery ready. Cribs, changing tables, a thoughtfully placed rocking chair, stuffed bears, drawers full of newborn onesies and teeny-tiny socks. One of the biggest stressors usually ends up being deciding on paint color. What was supposed to be a nurturing step into parenthood can turn into WW3 over the difference between baby blue and sky blue.
Now let's fast forward to the Toddler and Pre-k ages. They change a lot in those early years as they grow into themselves. Relying on that wee little angel to tell you what their favorite color for their bedroom walls is becomes a risky undertaking. The perfect ballet pink they just LOVED last week, can become sunflower yellow before you even pop the lid off the paint can.
And then pre-teens and teens? Well, it's a mystery.
Unless you enjoy having your home repainted every year, (and the paint companies will love you dearly if you do.) Consider focusing on making the paint color a neutral backdrop to your child's ever-changing likes and dislikes. While choosing between colors with names like Disco Nap and Un-Teal We Meet Again can actually be quite fun; (those are real paint names by the way) warm whites, grays with subtle undertones, or the right beige should not be overlooked. They can create a timeless blank canvas for the many adorable finger-paint art projects all the way to memory boards covered with photos of their friends and school activities.
The opinion of how often you should repaint rooms in your home, varies greatly. Some say around 5-7 years. A child's room though can take quite a bit of abuse from active imaginations, play-time, and…maybe an incident with a red Sharpie. (Ask me how I know.) The average repaint in these spaces is sometimes around 3-5 years to keep it looking fresh and clean. When the time comes for a repaint, this is a good opportunity to consider if the child is old enough to make the decision on colors like Snugglepuss and Nacho Cheese. (also, real names.) If you don't feel they are ready, if you are needing to keep costs down and don't want to face more frequent repaints, or if you anticipate a future move; keeping the color neutral for a while is probably the best course of action.
Ever since COVID stopped us all in our tracks, we were reminded of the importance of our homes and the kind of space we want to be in. This has brought about a new trend in interior design with color palettes full of more organic themes and softer, relaxing colors. What an amazing opportunity to bring this much needed serenity into our children's lives as well!
We live in strange and worrisome times and our children's eyes are being flooded with negativity delivered to them via bright colors, over-stimulating advertisements flashing across screens, and "visual noise" every day. Providing a soothing and restful respite for them in a calm place where they can just "be" at the end of the day will allow them to refocus and recharge.
One way to introduce this sense of calm and keeping the décor fluid for changing tastes is to keep the colors for bedding, curtains, pillows, and other decorative items on a similar palette through the years to create a smooth transition. Gradually switching out smaller accents with new complimenting pops of a few of the child's current favorite colors will keep the room fresh without having to break the bank for a complete redo.
When it comes to paint colors for walls, I recommend whites with a bit of warmth to them, modern warm-neutral beiges, or grays with undertones that can create a neutral backdrop with just a hint of color.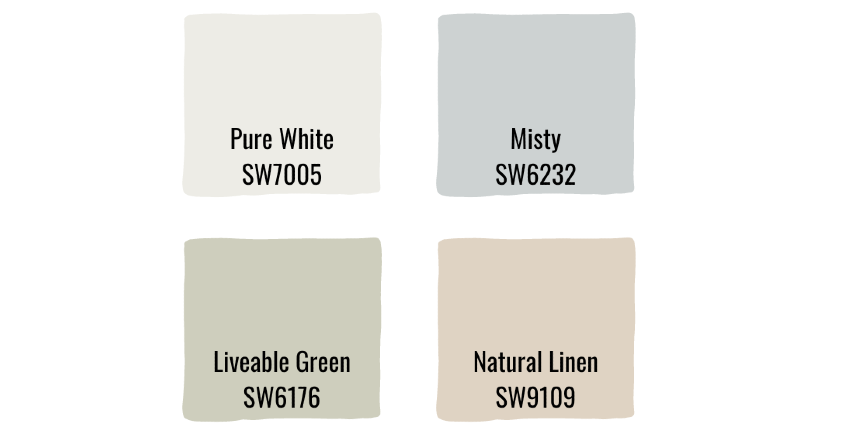 A good warm-white could be Pure White SW7005. It's the right balance between being a clean, modern white with just enough warmth in it to keep it from being too stark or cold.
If you want to add a bit more color to the space while still maintaining a neutral feel, consider trying grays with blue or green undertones. A pretty blue-gray option is Misty SW6232.
For a gray with a green undertone, check out Liveable Green SW6176.
A great warm-neutral beige to consider is SW Natural Linen 9109. With its fresh and modern feel, it is a perfect blank canvas to handle quite a few changes and tastes over the years.
In terms of paint sheen, I recommend using either eggshell or satin in kid's rooms for the best clean up purposes. Just in case there is an incident with a red marker.